Lenny Henry, James McArdle and Small Island feature in new National Theatre season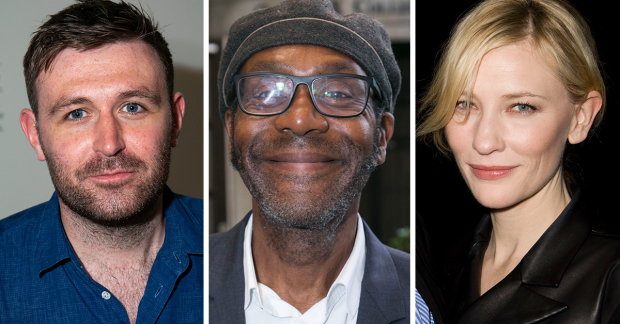 The National Theatre has announced its new programme for 2019.
Artistic director Rufus Norris will direct Helen Edmundson's stage adaptation of Andrea Levy's award-winning Small Island in the Olivier Theatre in May. Journeying from Jamaica to Britain in 1948, the piece will also be broadcast live as part of NT Live.
Caryl Churchill's Top Girls will return in a new production overseen by Lyndsey Turner, marking the first time the show has been seen on NT stages. The piece has set by Ian MacNeil, costume by Merle Hensel, lighting by Jack Knowles and sound by Christopher Shutt. It runs from 26 March to 22 April.
Lenny Henry will come to the National in 2020, with a new piece he has written and will perform in the Dorfman theatre entitled Richard Pryor on Fire. It will be directed by Paulette Randall with further information to be confirmed.
Polly Findlay returns to the National to direct Roger Allam in Githa Sowerby's Rutherford and Son, which opens in May. The piece will have set and costume design by Lizzie Clachan with sound design by Paul Arditti.
Inua Ellams (Barber Shop Chronicles) will return to the National with a new adaptation of Chekhov's Three Sisters, directed by Nadia Fall. Running in the Autumn, the show is a co-production with Fuel.
James McArdle (Angels in America) will star in David Hare's version of Ibsen's Peer Gynt (entitled Peter Gynt), directed by Jonathan Kent with set and costume design by Richard Hudson. The show opens in July and will then transfer to the Edinburgh International Festival in August.
Ella Hickson, Ben and Max Ringham will collaborate on a new sonic experience entitled Anna, which will debut at the Dorfman in May. Set over one night in 1968, the piece will be directed by Natalie Abrahami, with set and costume designed by Vicki Mortimer and movement by Anna Morrissey.
Annie Baker (John) will return to the Dorfman for the European premiere of her play The Antipodes, directed by Lila Neugebauer with set and costume design by Chloe Lamford. It runs in October.
Blanche McIntyre will make her National directorial debut with a new version of Molière's Tartuffe, adapted by John Donnelly with design by Robert Jones, lighting by Oliver Fenwick and music and sound by Ben and Max Ringham. The piece runs from 9 February to 30 April, with further performances to be announced.
Simon Godwin, currently directing Antony and Cleopatra, will return to the National for the debut of Simon Woods' first play Hansard, with a cast featuring Alex Jennings and Lindsay Duncan. Running in the Lyttelton, the show is a combination of the political and personal and will open in September.
Steppenwolf Theatre Company's Downstate by Bruce Norris will come to the National after debuting in Chicago. Directed by Pam MacKinnon, the show has a cast composed of Davis, K Todd Freeman, Francis Guinan and Tim Hopper, together with Aimee Lou Wood, Cecilia Noble, Eddie Torres and Matilda Ziegler. It runs from 12 March until 27 April.
After a sell-out success this year, the National's Public Acts will return in 2019 with As You Like It directed by Douglas Rintoul at Queen's Theatre Hornchurch. The piece is a musical adaptation first seen at the Delacorte Theater, New York. In 2020 the NT will partner with Cast in Doncaster for a third Public Acts production.
Andy Stanton will make his National Theatre debut with My Gum and the Dancing Bear – The Musical!, based on his children's books, which runs in the Dorfman and is directed by Amy Hodge.
More details have been announced for the world premiere of Martin Crimp's We Have Sufficiently Tortured Each Other – Twelve Variations on Samuel Richardson's Pamela. Directed by Katie Mitchell and starring Cate Blanchett (making her National Theatre debut) and Stephen Dillane (Game of Thrones). The piece runs from 16 January to 2 March.
Further casting for the show includes Babirye Bukilwa, Jessica Gunning, Emma Hindle and Craig Miller. The piece has set design by Vicki Mortimer, costume design by Sussie Juhlin-Wallén, lighting by James Farncombe, sound by Melanie Wilson and movement by Joseph Alford. Tickets will go on sale via ballot on 22 November at 12pm. At the opening conference, Norris said he hoped the piece would go on to have a further life.
The West End production of Natasha Gordon's Nine Night will also extend, now running until 23 February 2019.
The full cast for the returning production of Follies has also been confirmed.
Also announced today, the Almeida's production of Richard II starring Simon Russell Beale will be broadcast live on NTLive, as will David Hare's I'm Not Running.