Review: The Prisoner (National Theatre)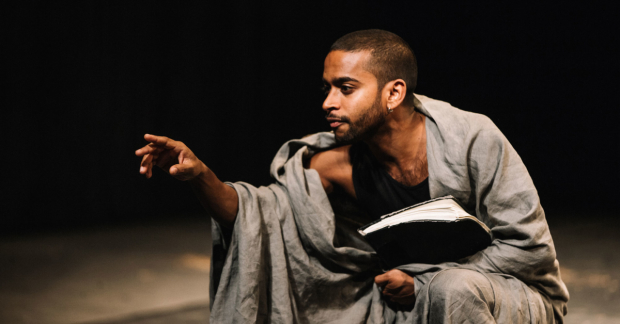 It's fifty years since Peter Brook last directed at the National. John Gielgud played Oedipus for him at the Old Vic. He left the country, hailed as a theatrical pioneer, just as its South Bank home finally opened. No-one could begrudge the 93 year-old his debut there.
The Prisoner, supposedly, dates back almost as long. Forty years ago, Brook claims to have met an Afghan man condemned to sit his whole life in the desert facing a prison. "The look in his eyes was so strong," the director has said, "that the experience has stayed with me up until now." It may or may not be true. Who can tell?
On a bare stage, dotted with sun-bleached tree stumps, Hiran Abeysekera sits cross-legged as Mavuso, staring out front. As the stage lights rise and fall, day turning to night, his face morphs like a timelapse. A concerted stare fades to heavy-lidded sluggishness. He tilts his head, contemplatively, before his eyes glaze over. In time, he seems to accept his fate.
The point is that Mavuso sees his sentence out by choice. There are no walls to contain him, no jailors to check, but he continues an ascetic, isolated life. The prisoner is, in effect, free to go but, like John Locke's bedbound man who never checks whether he's locked in, Mavuso doesn't test the bounds of that freedom. Whether that makes him honourable or foolish – or, indeed, both – is left for us to decide.
His crime is pointed – a symbol of our inevitable sin. Mavuso is punished for killing his father on finding him in bed with his sister, either out of righteousness or out of envy. Admitting he might have committed the same incestuous act himself, Mavuso was nonetheless duty-bound to avenge her honour. Causing harm is, Brook suggests, the cost of living and if Mavuso stays put, it is to atone accordingly.
As meditative as its subject matter, The Prisoner is Godot-like in its minimalism. While visitors swing by from time to time – a local treecutter turned executioner, two intrigued prison guards bearing gin – it is a Spartan fable whittled down to its bare bones. Too bare, perhaps. Brook's flinty text, co-written with his collaborator Marie-Hélène Estienne, is so inexpressive its almost inert and there's so little action or panche that, at times, it feels as if the theatre's fallen out. The Prisoner could exist, just as fully, written down as a fable.
It's as if in searching to pare The Prisoner bare to its essential truth, Brook treats anything entertaining or entrancing as superfluous extras. And yet, there's something here that holds the attention; some purpose that persuades you to lean in, some poise that's always in control of itself. Its message is both existential and ecological. Life's purgatorial. Humans tarnish the world. Saying as much feels as sage as it does simplistic.