And Introducing… YESYESNONO: the one-man company taking care of audiences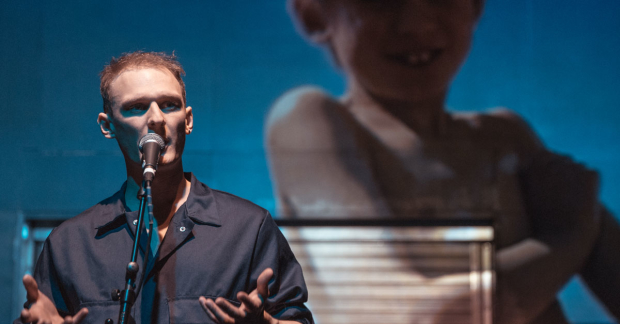 In the first minute of his very first show, Sam Ward asks his audience to take off their shoes. It's not a command – those with stinky feet can keep the fact secret – but an invitation, and a welcome one at that.
To be barefoot in public, indoors at least, feels quietly transgressive and immediately informal. Ward is, in a way, urging us to make ourselves at home, but his request aims at togetherness too. It's as if we agree, while we're here watching, that shoes are optional; that your feet and mine are equally acceptable. "I think you'll feel more comfortable," Ward reassures us.
Working under the name YESYESNONO, Ward has a special way of putting audiences at ease. Like the late, great Adrian Howells, Ward takes real care of us – not with a superficial show of concern that starts with a rehearsed welcome and a content warning, but with real care and genuine attention. His shows turn theatres into safe spaces; places where artists and audience meet as equals and make a show together.
YESYESNONO is at the forefront of a wave of young work that wants to take care
I wrote about this shift in the wake of this year's Edinburgh Fringe: a wave of young work that wants to take care. YESYESNONO is at the forefront of that and, as a result, its work feels ultra contemporary. In a café in Salford, Ward talks me through the shows that shaped his – all of them from the last couple of years: Barrel Organ's love of liveness and unpredictability, Kim Noble and Jamie Wood's shambling styles, the utopian theatre Chris Goode describes in The Forest and the Field. It's a reminder that young artists are inherently of the moment.
Soft-spoken and thoughtful, as gentle in life as he is onstage, Ward's certainly that. His two shows to date sit in contemporary currents. Five Encounters is as confessional as anything on social media – an account of encounters with men he met online as he was coming to terms with and testing his own sexuality. Its follow-up [insertsloganhere] ponders the aesthetics of advertising with an artful ambiguity – sceptical of it, but admiring too. It admitted that advertising – consumerism too – is all but inescapable. For better and worse, it has shaped our world.
Ward's shows aren't just subjective, but deeply introspective.
Both hinged on audience interaction, and Ward invites individuals onstage to quiz them. What counts as cool? What does love feel like? Distracting them with simple tasks – doodling or inflating balloons – he draws honest answers that open up his show. It's a form of co-authorship; a recognition that our experiences and ideas are as important as his. Ward's "suspicious" about plays that pronounce from the stage, and believes artists have to admit their subjectivity. "Life's always more complicated than what one person has to say".
Ward's shows aren't just subjective, but deeply introspective. "I usually begin at a macro thing, then try to understand what it says about me in particular". Rather than sharing opinions or telling his story, Ward gives and interrogates himself up onstage. It's generous; a genuine meeting through art. If audiences are to bring themselves to the work, Ward feels an obligation to do exactly the same.
That absolute honesty makes his work acute, allowing Ward a way into pressing, contemporary issues without needing to be all-encompassing. His next show Hard Work, having its first work in progress showing at the Yard Theatre's Live Drafts season this week, examines the expectation that we'll work for longer, and he's also working on a piece about conspiracy theorists, crisis actors and the chaos of life. Both will shift away from audience participation towards guest performers. "I don't want to be a solo artist forever," Ward says. "It's really hard."
Hard Work runs as part of Live Drafts at the Yard Theatre on 12 September.