Review: Antony and Cleopatra (National Theatre)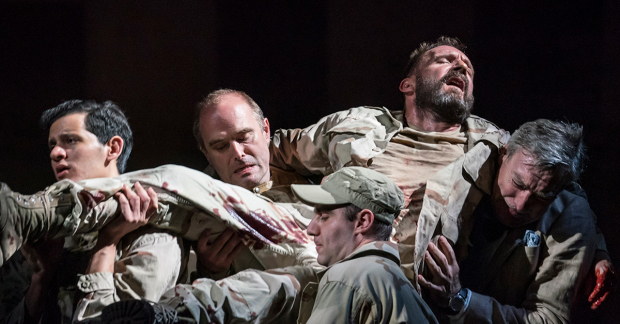 Antony and Cleopatra isn't an easy play. It's long, it spans a love affair and a civil war, and its two protagonists who are meant to be so in love they are willing to give up the world for each other, spend most of its duration quarrelling. It also contains some of the most sublime poetry in Shakespeare and two epic tragic parts.
The great merit of Simon Godwin's fast-moving, modern dress and hugely intelligent production in the vast space of the Olivier, is its extreme lucidity. A lot goes on, but we always understand its meaning and its emotional impact. The words seem fresh minted, beautiful but utterly clear. In Ralph Fiennes and Sophie Okonedo, he has two actors who are willing to re-think the leading roles. The result is engrossing, unexpected and quite riveting. Both a Roman triumph and an Egyptian feast.
He – radically – begins at the end, with callow Octavius Caesar (Tunji Kasim) arriving at Cleopatra's monument to find her dead and order that she be buried alongside Antony. "No grave upon the earth shall clip in it/A pair so famous." This has the advantage of setting up the story: we know we are meant to care even when, in the next scene, what we see is Fiennes as Antony sloping around in beads and beachwear and Okonedo in slinky ballroom, sparring and snogging, next to a turquoise-tiled pool.
Both are instantly fascinating. Fiennes combines the world-weariness of a man past his prime, who knows he should be somewhere else ruling, rather than mucking around with a beautiful woman but who is equally unable to shake off the sense that "this is my place" – that there is nowhere better to be. As his performance progresses, and he is called back to Rome, to his duty, he more and more resembles a wounded bull, all hunched shoulders and powder-keg passion kept just about in check.
He's haunted by his age, by his depletion of prowess, but his eyes still have spark and fire. Most Antonys shout; Fiennes doesn't, finding in the language instead a sort of harried sorrow, a constant searching that makes sense both of the constant descriptions of the man's nobility but also of the strangely botched, half-comic nature of his tragedy.
Okonedo's Cleopatra has the same wounded humanity. As she runs through moods, capricious, powerful and positively bitchy by turn, she is like an imperious soul queen, completely in command of her material, and unlike Antony, happy in her own skin. It is a performance of immense detail and subtlety, vocally enticing but also physically strong, full of little shrugs of the shoulder and raised eyebrows. She is also extremely funny; you can see why men fall under her spell.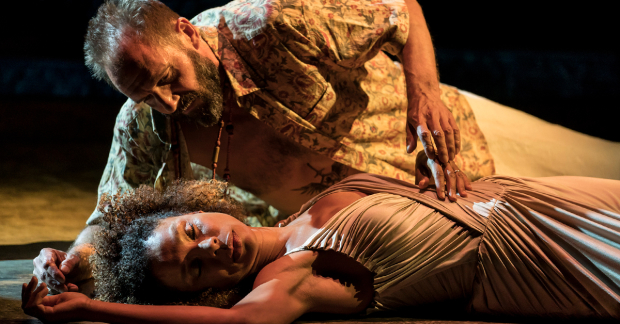 Her attendants Charmian and Iras (Gloria Obianyo and Georgia Landers, both excellent) clearly do, working patiently around her moods, even when she's throwing a messenger into a pool, or making them listen to endless drunken fantasies about Antony. Indeed, one of Godwin's astute observations is to make their servants the touchstone for the hero and heroine. Fisayo Akinade finds endless resonance in the tiny part of Eros, his fine timing and sensitive reactions revealing more than his words. As Enobarbus, Tim McMullan is simply magnificent. He makes the famous speech about Cleopatra's perfumed impact – "The barge she sat in, like a burnish'd throne" – as fresh as a news report, but mines too the precise shifts in the character's blunt realism.
There's excellent support too from Nicholas Le Prevost's confused Lepidus, and Sargon Yelda's genial Pompey and all the characters effortlessly command the space. So does Hildegard Bechtler's inventive set, which (one stranded conference table apart) keeps things fluent, swinging swiftly from warm-hued Egypt, to the gray and black conference rooms of Rome, with tasteful artwork on the walls and the trophies of conquest elegantly displayed. She even conjures a submarine, a great steel hulk rising out of the Olivier floor, and an ancient Middle Eastern city for the climactic battle, the soldiers rushing like street fighters between the parapets (terrific movement direction from Jonathan Goddard and Shelley Maxwell).
But at climactic moments, the space also clears, leaving Fiennes and Okonedo alone with their griefs, their fears and their love. Which is absolutely as it should be because as this fine, confident production shows, this is an endlessly relevant play about an entire world – but also about two people who are fighting their own mortality and trying to love one another.