Laurie Sansom: 'It's no surprise artists want independence'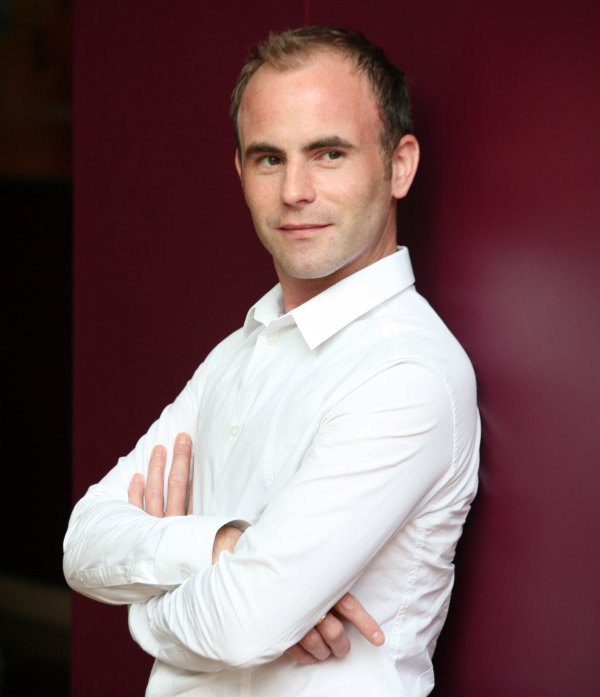 Laurie Sansom could hardly have picked a more high pressure year to make his entrance as artistic director of the National Theatre of Scotland. The little matter of an independence referendum aside, he also inherited a project from his predecessor, founding AD Vicky Featherstone, that not only stands as one of the most ambitious in the company's short history, but arguably one of the boldest commissions in recent British theatre history.
The James Plays are a trilogy of historical dramas from the pen of Rona Munro, a history scholar turned playwright, which focus on the lives, families and courts of the Stewart kings who ruled Scotland in the 15th century. They have now transferred fresh from a triumphant premiere at the Edinburgh International Festival to what Sansom terms the "National Theatre of Great Britain", which is where we speak over lunch between tech rehearsals.
"I don't think there could be a better gift to a new artistic director than those three scripts on your table," he says of taking on the project a little over a year ago. "As soon as I read James I's first big speech, I thought 'okay, we can make this work.' It was then just a matter of working out how."
Sansom, who is in his early forties, is charming company, surprisingly laid back considering his rehearsal schedule (he'll have had 50 tech runs by opening night), but utterly enthused about the work. It's easy to imagine that when he says something will work, all around him believe him it at once. I ask whether he considered the project a gamble – after all, a bad reaction at last month's EIF and it could have proved a very expensive failure.
"If I'd thought about it in those terms, I would have been crippled with anxiety," he says. "The pressure was all about how to do justice to those scripts, and that was enough to think about – everything else has to look after itself."
To make it work he recruited a stellar ensemble of 19 actors led by James McArdle, Andrew Rothney and Jamie Sives as the three monarchs, and also including The Killing's Sofie Gråbøl. Without the "extraordinary commitment" of these actors to seeing the project through, he admits he couldn't have got through it.
I suggest that the plays chime with a general trend regarding writers turning their attention to history – let's call it the Wolf Hall phenomenon. "I think there's always been an appetite for historical dramas," says Sansom. "One of the things that we're doing with the James Plays is trying to debunk the notions of how history plays should be. We're treating them like contemporary plays, and treating the kings like human beings."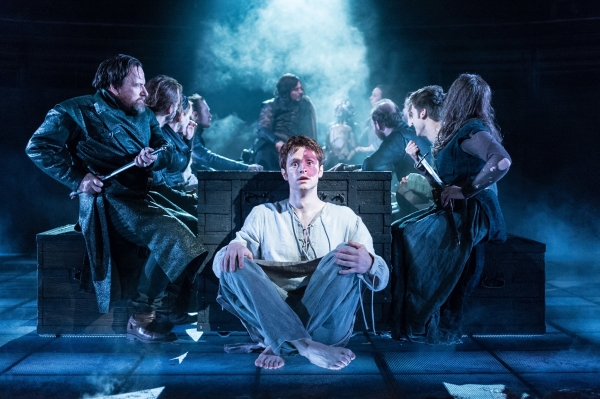 'The debate has gone deeper'
Our attention soon turns to the referendum (how could it not?). I tell Sansom I was tempted to open our discussion by simply asking 'yes or no?', and he laughs – he's clearly been asked this countless times already. "I don't know how I am going to vote. But whatever happens it's been a very exciting year in which questions have been asked about what this country is going to be. The vote is a big moment." What does he make of the campaigns? "The debate has gone deeper than I thought it would, and that can only be a good thing."
Like his equivalent at the 'NTGB', Nicholas Hytner, Samson is the picture of diplomacy. He has to be, particularly considering he's an Englishman, who joined NTS after a highly successful spell at the Royal and Derngate in Northampton. I wonder if he encountered any of the anti-English hostility described by Featherstone?
"I can understand why there is nervousness around that [his Englishness]. But if people understand the theatrical tradition in which they are working, my nationality is irrelevant. The question really is are there enough opportunities within Scotland for people in the arts to gain leadership experience and be prime candidates for the top jobs? This is a question that should be explored, and I hope I can help to influence."
He admits he finds it strange that James Plays author Rona Munro, a Scot by birth, is unable to vote whereas he – a relatively recent interloper – is. But he's quick to point out that Scotland has long been "open to incoming people and welcoming of new ideas". And he echoes what another English director, Phillip Breen, told me recently, when he says that Scotland is "a brilliant place to be an artist right now".
NTS has addressed the referendum directly, through its Blabbermouth project, a 12-hour celebration of Scottish culture that took place in Edinburgh on the eve of the referendum. But its main contribution to the debate is The James Plays, which seems a neat way of avoiding taking sides (though it's hard to argue that a trilogy of plays about Scottish kings is pro-union).
When I press him a little further on the politics of the plays, he concedes: "There are characters in the plays that extol virtues of the Scottish nation, with all its complexity and contradictions, in a way that could be said to be a rallying cry for independence. But it's all refracted through a 15th Century lens."
And as to the implications of independence on artists, he says tellingly, "It's no surprise that the majority of artists want independence." This is about as close to an endorsement of 'yes' that he'll give.
That being said, he hopes that independence, should it occur, won't be a barrier to further collaborations between the two national theatres (The James Plays is their first). He's clearly relished working in the Olivier – a more natural arena for the James Plays than the proscenium-arch Festival Theatre where they premiered in Edinbugh – and hints that the two companies have already discussed the possibility of further projects: "Both sides have learnt a lot from each other and we're really keen to do it again."
So what else is on the horizon for NTS? The building-less company "desperately needs a base", says Sansom, which is arriving soon in the form of a £5.5million rehearsal and administration complex to be housed in Glasgow. He describes the development of this new HQ as a "growing up moment" for the young company, which will mark its tenth anniversary in 2016.
And in terms of programming, he's keeping cards close to his chest – the new season is announced next month – but promises an "eclectic mix". He describes running NTS as "the best job in British theatre", as it encompasses such a broad range of work. "Some shows are performed in church halls on the Isle of Arran, some are at the Traverse, some are in commercial theatres in Glasgow, some start off in Scotland and end up in China," he says excitedly. "Each one is finding its audience in a really different context, and that's one of the real pleasures of running a company, putting that tapestry together."
Will his masterplan be altered by the outcome of today's vote? "Not at all," is his emphatic reply. "The National Theatre of Scotland was set up in the wake of devolution, and from our point of view we have an imperative to be cultural ambassadors for Scotland around the world, whether it's a yes or a no vote."
The James Plays run in rep in the NT Olivier until 29 October 2014. Rona Munro and Laurie Sansom will discuss the trilogy at a Platform event on 26 September.