National Theatre of Scotland brings 'James plays' to NT; Referendum in spotlight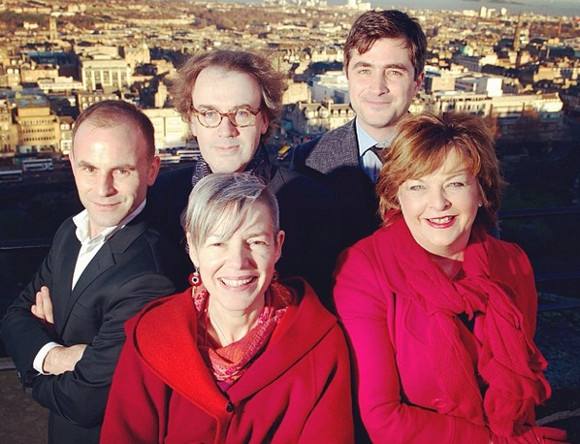 National Theatre of Scotland (NTS) will make its debut at the National Theatre later this year when its productions of Rona Munro's 'James Plays', centring on James I, II and III, transfer from Edinburgh to London.
Directed by new NTS artistic director Laurie Sansom, the plays are billed as a "epic historical theatre for remarkable times", in light of the forthcoming Scottish independence referendum. They will premiere in August during the Edinburgh International Festival and transfer to the NT Olivier in October 2014.
"I wrote these plays because I adore medieval history," said Munro, whose previous credits for NTS include 2009's The Last Witch.
"I want people to experience them as I imagine them, not as something remote happening to people in odd costumes talking in inaccessible 'history speak' but as visceral, epic stories of people who thought and felt as we do. These loves, deaths, friendships and betrayals inform our present."
The ensemble cast for the three plays includes James McArdle (James I), Blythe Duff (Isabella), Sofie Gråbøl (Queen Margaret), Cameron Barnes, Daniel Cahill, Sarah Higgins, Rona Morison, Mark Rowley and Fiona Wood.
The James Plays are a co-production with the Edinburgh International Festival and the National Theatre of Great Britain.
Referendum and Commonwealth Games
Other highlights of the National Theatre of Scotland's 2014 season include the return of Glasgow Girls, Cora Bissett and David Greig's "power musical", which runs at the Citizens Theatre, Glasgow from 20 February to 8 March.
Greig will return in June to co-curate The Great Yes, No, Don't Know, Five Minute Theatre Show, which invites professional, amateur and first-time theatre makers to make and perform a five minute theatre piece inspired by the theme of "Independence" for live streaming to a global audience.
Dear Scotland… (24 April – 3 May 2014) is a partnership with the Scottish National Portrait Gallery that will see 20 Scottish writers pen short monologues for a series of "pit-stop performances" around the gallery, inspired – or provoked – by 20 of the collection's celebrated portraits.
On the eve of the independence referendum (17 September), Blabbermouth will constitute a "12-hour celebration of the country's cumulative written word legacy"; conceived and curated by Graham McLaren, it will run at The Assembly Hall on the Mound, Edinburgh.
Elsewhere, Graham McLaren's adaptation of Joe Corrie's 1926 In Time o' Strife, marking the 30th anniversary of the 1984 miners' strike, returns with a Scottish and UK tour.
And, in the year it hosts the Commonwealth Games, Glasgow's industrial past and its creative future will be celebrated in The Tin Forest, a citywide community project offering a "pop-up performance space and entertainment experience" for visitors during the Games (23 July to 3 August 2014).
For further information on the NTS 2014 season, visit www.nationaltheatrescotland.com