Jane Eyre (Bristol Old Vic)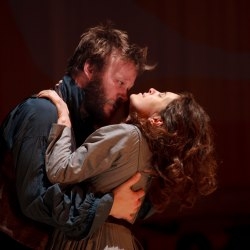 The two parts Jane Eyre at Bristol Old Vic is big, bold programming on the part of the always adventurous Bristol Old Vic. Three years in the planning, three months in rehearsals, Sally Cookson's devised adaptation along with the actors and musicians of Charlotte Bronte's 1847 coming of age story, puts one in mind of previous successful book adaptations such as the RSC's Nicholas Nicklebly. If it doesn't quite hit the scales of that work, its not through lack of ideas and vision, ultimately it boils down to a need for a firm snip on script.
For what one feels would be a masterful three hour piece, feels a tad dragged out over the four and a half hours and two parts Cookson and her company take to tell the tale. Whilst it is hard to begrudge this, there are always enough visual and aural stimulants to keep us transfixed upon the stage, the first part especially lacks a forward narrative drive and it is only when Jane leaves behind her childhood and finally encounters Rochester that the story begins to grip.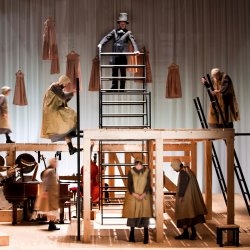 With a hardworking cast of just seven and three musicians (who also sometimes step into the acting arena) there is a lot of thrilling, alchemical work going on in Michael Vale's playground-like set incorporating ladders and platforms. The train journeys depicted by an exhausting full cast tribal run, the striking of matches to indicate fire, the simply sublime Melanie Marshall crooning Mad about the Boy as Jane comes to realise her feelings for her master, are all moments that will remain etched in the memory.
That song along with Charles Barkley Crazy are the only two tracks lifted from elsewhere in Benji Bower's simply superlative score, a mix of folk and minimalism that acts as its own character on the play. With Marshall's breathtaking vocals, swooping and haunting in equal measure, I doubt you'll be able to find a better musical score anywhere in the theatre in 2014.
The feast of ideas and sounds along with a constantly rotating cast of characters do leave some of the actors struggling to make a mark over the production, Felix Hayes, without the luxury of camera close-up or pages of descriptive prose, struggles to give a fully rounded performance as the gruff, rough Rochester, though one sympathises with this talented actor who only can really portray this difficult character in broad brushstrokes. However Madeleine Worrall is superb as Jane, there is an openness and honesty in her work, which matched with her impeccable technical ability, marks her out as an actor from the top drawer, and someone who should be given an opportunity to make her mark on Hedda and Nora and their ilk forthwith. Laura Elphinstone also holds her own amongst the production in her essays on a range of characters including, Jane's tragic school friend, Rochester's French ward and the driven pastor who offers Jane a different potential life.
You leave feeling that Cookson will soon enough deliver us a stage masterpiece for the 21st century. Though Jane Eyre isn't quite it, its too flabby, the amount of joy, exuberance and invention at large ensures this day in the theatre is nothing if not well spent.
Jane Eyre plays untill the 29th March
– Kris Hallett