Catherine Love: Can everyone really get talking across cultures?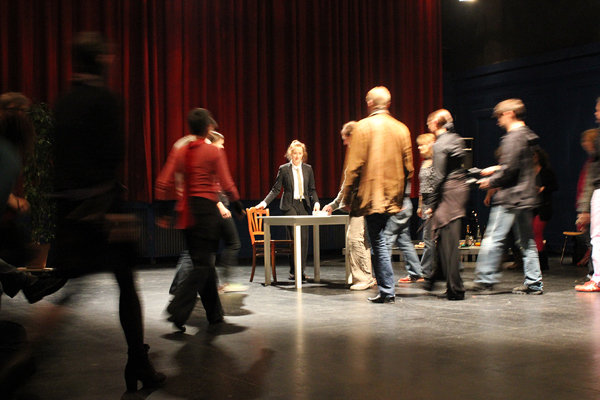 At the Conservative Party Conference this week, Europe is high on the agenda. Now that the question of Scottish independence has been settled – at least for now – the next referendum on the horizon is likely to be on the UK's continued membership of the European Union. Alongside politics, Britain's place in Europe and in the wider world has a considerable impact on the culture that reaches these shores. So how truly international is our theatre?
While Britain has often been more inward looking than its counterparts across the Channel, there are an increasing number of attempts to foster international relationships. The biannual London International Festival of Theatre has been bringing theatre from around the world to the capital for 33 years now, and more recently World Stages London has helped to engineer international collaborations such as 2012's trilingual production of Simon Stephens' Three Kingdoms. That's not to mention the regular influx of theatre and performance from around the world at the Barbican, a perfect example being last week's visit from the Schaübuhne Theatre in Berlin with Thomas Ostermeier's An Enemy of the People.
But there remains a lingering question mark over how genuinely meaningful these international exchanges are, both for theatre-makers and for audiences. Two upcoming projects might begin to offer an answer. First up, the All Change Festival joins forces with Fun Palaces this weekend, organising both an internationally-minded event in Hammersmith and simultaneous festivals in four other global locations. It's an ambitious undertaking, hoping to reflect festival producer Firehouse's aim of "making global local".
"It is easier to gather momentum around the brief creative flare of the festival than it is to maintain it year-round"
At the Lyric Hammersmith, British audiences are invited to free performances from local, national and international artists, blurring the boundaries between those different contexts in a globalised world. At the same time, similar events will be taking place in Germany, Iceland, New Orleans and New York, all linked through a digital storytelling installation. The real test here will be whether free performances truly open up accessibility and involve new audiences in an international exchange of ideas.
The second project is the Best of BE Festival tour, which is travelling all over the UK this autumn, as well as taking a trip to Spain. The event features a selection of the best work from this summer's BE Festival, which is dedicated to bringing European theatre to audiences in Birmingham. What is particularly interesting about this tour is its inclusion of a dinner interval when it visits the Barbican, Birmingham Rep, HOME in Manchester and the Traverse in Edinburgh, with the aim of sparking dialogue between artists and audiences. Can everyone really get talking across cultures?
Of course, it is always easier to gather momentum around the brief creative flare of the festival than it is to maintain it year-round. It remains to be seen whether the temporary nature of these projects and others like them can translate into more permanent shifts in the way that theatre-makers and audiences alike perceive British theatre's place in the world and its relationship with its neighbours. But in an increasingly connected world, we have to be thinking about exploring those connections more meaningfully in our theatres.