Review: The Magic Flute (Garsington Opera at Wormsley)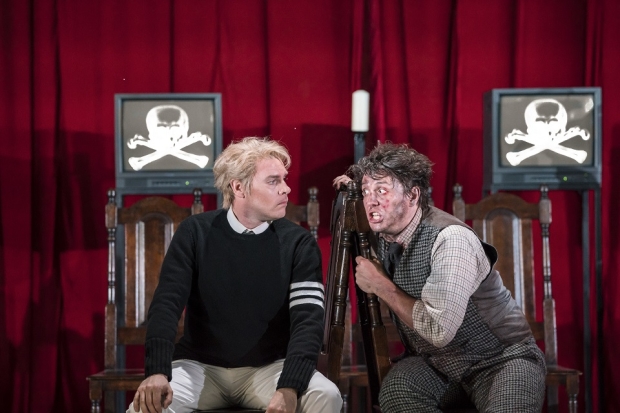 Whisper it quietly, but The Magic Flute has never been my favourite opera. Yes, Mozart's music is divine, but his late-life Singspiel has a ropey story, poor dramatic shape, minimal character development and rampant sexism.
It means, perversely, that I relish each new account just to see how the director solves its problems. And Netia Jones' new production for Garsington Opera is a corker. She embraces the opera's madness and channels it through dystopian visual tropes that will ring bells with viewers of The Handmaid's Tale and Twin Peaks.
Jones is best known for her inventive use of videography, but this self-designed show is 95 per cent three-dimensional. Her one-size-fits-every-scene pre-interval set, lightly flecked with masonic symbols, consists of a low topiary garden and an imposing two-storey house. Here we first meet Tamino (Benjamin Hulett) as his hydroelectric bath therapy goes wrong and he's mauled by some vicious rubber hosing.
After this opener things take a turn towards Alice in Wonderland as the increasingly daft plot inspires Jones, a visually-driven director, to heights of elegant sense and nonsense. The three Ladies who 'rescue' Tamino are malfunctioning automatons; the three Boys (members of Trinity Boys Choir) who guide him on his quest to find Pamina are nattily dressed clones who, in one memorable sequence, float down paths on roller skates. All six of these para-characters are exquisitely sung.
Indeed, the musical side of things is unalloyed delight. Early music specialist Christian Curnyn stirs the Garsington Opera Orchestra to exuberant heights, adding a zest of Handelian energy to the Mozartean stew, and galvanises a wonderfully distinguished cast. Hulett is in radiant voice and so is the Pamina of Louise Alder, a sought-after star who is also currently managing (goodness knows how) to be the alternate Sophie in Glyndebourne's Der Rosenkavalier.
Alder's duet with Jonathan McGovern's bruiser of a Papageno is a musical high point, although the talented young baritone, last year's Pelléas at this address, is unrecognisable as a neck-snapping, rabbit-skinning scourge of innocent wildlife. Seasoned Sarastro James Cresswell slots into the production's #MeToo agenda with a paternalistic and unwelcome invasion of Pamina's personal space, plus some patronising head-patting as he mansplains the plot to her. Like several of Jones's ideas it's nicely done but a mite too blatant.
The second act, while scenically less interesting, is musically outstanding thanks to the luxury casting of Richard Burkhard as the Speaker and Adrian Thompson as the egregious would-be rapist Monostatos. Jones' new setting, a red-curtained David Lynch space with a checkerboard floor, feels like a masonic chamber of horrors with Pam and Tam next for the meat hooks. A last few gasps of comedy are wrung from McGovern's Papageno during his search for the girl of his dreams, alhough when she finally appears Papagena (Lara Marie Müller) could pass for a devil doll.
Garsington Opera Festival has a bright new Die Zauberflöte to mark its 30th birthday, and an eminently revivable one at that. It's a handsome, lavishly costumed summer entertainment and a fresh aesthetic departure for a director whose freewheeling esprit never fails to add original perspectives. For instance her Queen of the Night (Sen Guo, an admirably secure coloratura soprano) is blind and dependent on a glowering guide, the Red Priest. It's hard to pinpoint precisely why this enhances her menace, but it does.