Idomeneo (Garsington Opera at Wormsley)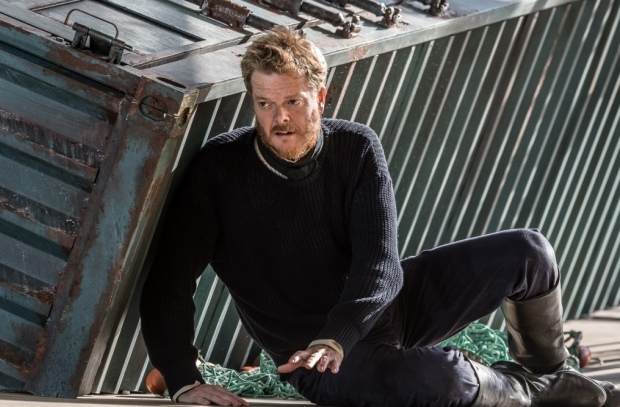 Director Tim Albery really wants us to notice Elettra in his new production of Mozart's opera seria. While all the rest wear drab, Agamemnon's daughter is decked out in a bustle-tastic outfit of dark gold and brilliant orange, with a helmet of close-cropped blond hair and a raging temper.
I'd have gone along with this monster view of a scorned woman had she been given a subtler emotional journey, but in Rebecca von Lipinski's Queen-of-the-Night performance she is pretty much unhinged throughout, ripe and ready for a crossover into Strauss's Elektra. Her singing suffers—at one point she struggles to maintain a smooth line while donning earrings—but there is no denying the soprano's star quality, nor her fabulous anger during "Oh smania! oh furie!".
Yet her character is a sideshow to a tale that unfolds with more than a whiff of Old Testament religion. Idomeneo, King of Crete, is rescued from a storm at sea by the god Neptune on condition that he sacrifices the first person he subsequently meets on land, and in true Greek tragedy fashion this turns out to be his own son, Idamante.
Heavily cut for a summer audience, Mozart's long opera comes in at under two and a half hours of music, which means that some characters, notably Timothy Robinson's limpidly sung Arbace, all but disappear from the drama. But what riches remain, and how fabulously the cast and chorus sing under Swedish conductor Tobias Ringborg.
Tenor Toby Spence is at the height of his powers just now, and his Idomeneo suffers the pangs of Abraham in a performance of gorgeous vocal colours and tortured theatricality. A ravishing, hitherto unsuspected baritonal quality suffuses his voice at times, while his agility in set pieces is breathtaking. A Peter Grimes in the making? He certainly looks the part.
'Modern-day and vaguely surreal'
Spence is matched by the haloed mezzo of Caitlin Hulcup as Idamante, not only plausibly masculine but dynamic of movement and fleet of tone, and by soprano Louise Alder as a determined yet touching Ilia, the young prince's true beloved. There's a luxury cameo by tenor Robert Murray as an under-characterised (by Albery) High Priest, while bass Nicholas Masters contributes a vivid moment as Neptune.
Albery's setting is modern-day (pace Ms von L's bustle) and vaguely surreal. It plays uneasily with the tragedy of refugees in containers—and probably, given the parade of black body bags in act three, with today's Mediterranean boat horrors—but it's a concept whose pieces don't really fit together, and it adds nothing to the opera. Moreover, the decision to turn one of the containers into a Regency salon that's differently configured every time it's opened up makes identification with current events pointless.
Tasteless then, but apart from the body bags which keep on coming long after we've got the message it's not overly distracting. However, I could have done without a floor-scrubbing episode after the interval, as I'm sure could Alder and the stylish, ever-sensitive Ringborg. Their moving account of Ilia's love-lorn message to the winds, "Zeffiretti lusinghieri", is murdered by a bizarre rhythmic grating noise that's pure directorial indulgence. A shame.
Incidentally, lovers of spectacular coups de théâtre should take note: Hannah Clark's elegantly spare set unleashes a cracker here just before the interval. No spoilers, but it goes down a storm.
Idomeneo runs in repertory at Garsington Opera on the Wormsley Estate until 11 July.