Review: The Magic Flute (Die Zauberflöte) (Royal Opera House)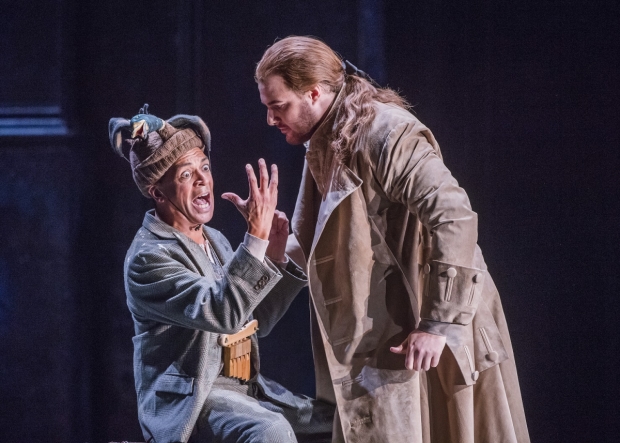 Note the change in billing. This time round the Royal Opera House's publicity machine is calling it The Magic Flute, but once you're ensconced within its confines the title reverts to the original German, Die Zauberflöte. Either way its the same show, and a damn fine one, and if it helps sell a few extra tickets that's all to the good.
Unlike many productions, David McVicar's 2003 production treats Mozart's Singspiel as an opera, not a romp. Blest with chiaroscuro lighting by Paule Constable and towering dark-wood sets by John Macfarlane that slide and reconfigure throughout the evening, it delivers dignity as well as comedy. There are moments when this renders the work too pompous for its own good, especially when a masonic priest urges Tamino to "beware the wiles of women"; but it also makes the scenario less tiresome. (The Magic Flute combines sublime music with the most confusing storyline of any top-ten opera.)
Conductor Julia Jones keeps the plot boiling with taut, urgent tempo choices that invigorate most of the cast, although on opening night these foxed Peter Bronder's Uncle Fester-like Monostatos. The ROH Orchestra played delightfully with a discreet sense of historically informed style.
Principals are top-notch for this first of two casts (the second one, from 5 October, will feature Tuomas Katajala, Florian Sempey and former WOS Opera Poll nominee Janai Brugger among others) with a gloriously lyrical Tamino in Mauro Peter and a comic masterclass from Roderick Williams as Papageno, a role he has sung for many years both here and at ENO. He makes a useless birdcatcher though, out-thought by a puppet goose (pre-War Horse) and reduced to foul if funny means in order to dispatch the poor creature.
The audience's engagement throughout Thomas Guthrie's razor-sharp revival was remarkable, a sure sign he's got things right, although there's little even he could do to rescue McVicar's limp staging of the 'trials' towards the end of a long evening.
Two stand-out performances anchor this Flute. As the heroine Pamina, Siobhan Stagg is a touching and musically delicious discovery – although those of us fortunate to have heard her jump-in account of Rossi's Orpheus would expect nothing less. The young Australian is the next big thing.
Today's big thing, though is Sabine Devieilhe, a devilishly gifted soprano who has been causing a stir in her native France and also at Glyndebourne, whose revival of Ravel's L'Enfant et les sortilèges she practically stole. Devieilhe is a strikingly youthful Queen of the Night, but every note of her coloratura showpiece is firmly in place in a voice that is ravishing and only slightly undersized for such a large house.
The Royal Opera is dedicating this revival to the memory of Lee Blakeley, a director who worked closely with McVicar on its development and on subsequent revivals. There could be no more fitting tribute to the lamented star than Guthrie's present recreation of their work. It is outstanding.
The Magic Flute runs in repertory at the Royal Opera House until 14 October.