Review: Il turco in Italia (Garsington Opera, Wormsley Estate)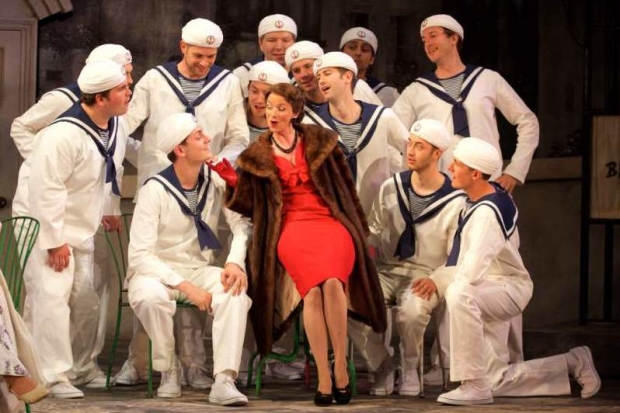 In the wrong hands Il turco in Italia ('The Turk in Italy') could be one of those minor Rossini comedies whose notes seem to spin like a top on a hard surface, on and ever on. Happily, this zinging show from Garsington Opera sidesteps the humdrum and skips the light fantastic.
There's so much glee and wit in Martin Duncan's production, first seen in 2011 and now back, partially recast and rethought, as a sun-soaked postcard of fun and colour. Tidily supported by the Garsington Opera Orchestra and a fabulous male chorus under David Parry, his updated setting of 1955 Sorrento is a smart fit for the opera's Commedia clowning and Mediterranean mores. And he cleverly conceals the fact that much of Act 2 is a musical dud.
It's marriage Italian style with a rondo alla turca, and Duncan, together with his inventive movement director, Nick Winston, steeps it in vermouth and San Pellegrino. Francis O'Connor's ingenious set is full of crackerjack moments as Fiorilla, bored in her marriage to the staid Geronio, succumbs to the seductive charms of a Turkish prince (named Selim, of course), but hasn't reckoned with the gypsy girl, Zaida, who got there first.
The ace in the opera's pack is Felice Romani's sparkling libretto, which avoids predictable outcomes and employs a poet-narrator to live among the characters while chatting to the audience. He's the puppet master in this early example of meta-theatre, thinking aloud how best to get to the interval or bothering about the plot in Act 2. In short, whenever we start to get restless he's got there first.
'A performance of scene-stealing delight'
That excellent baritone Mark Stone sang the poet with a twinkle in his eye and an immaculately focused timbre – which that brings me to the revival's trump card, its singers. The best of them, at least.
Two names leapt out from the cast list and each one played a blinder. Among British artists I'd defy anyone to name a more complete singing actress than Sarah Tynan, except perhaps Katie Bray. Here we get them both.
Tynan's Fiorilla suggested Sophia Loren much as her Adina for ENO (in The Elixir of Love) had channelled Marilyn Monroe: rolling gait, hand on hip, swishing dress and come-hither eyes – but all done with a knowing sense of comedy. She is an extraordinary actress who also happens to sing like a nightingale. And as the gypsy Zaida, the ever-changing Bray – who never ceases to astonish – lent her irresistible stage presence along with her rich, penetrating mezzo to a performance of scene-stealing delight.
Few of the men approached their levels, and aside from Stone it was Jack Swanson in the throwaway role of Albazar who made the best impression, although Geoffrey Dolton as Geronio did give a tireless and hilarious depiction of the world's most boring husband complete with comb-over and twitch.
At least tenor Luciano Botelho as Narciso, one of several a spurned lovers, had a decent second act; but Quirijn de Lang's rhythmically foggy Selim was thrown into stark relief in one tricky duet with Fiorilla where I was baffled by his music's line until Tynan's character repeated it, bang on the note and dead centre of the beat. Awkward.
Il turco in Italia continues in repertory at Garsington Opera at Wormsley until 15 July.