Così fan tutte (Garsington Opera at Wormsley)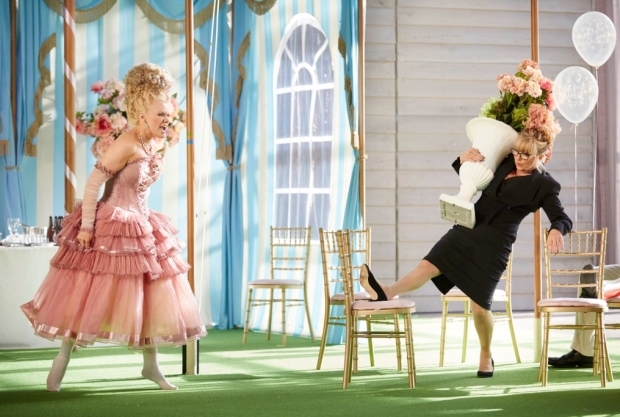 Mozart composed music of superhuman perfection for an opera about human imperfection. Any production of
Così fan tutte
worth its salt will acknowledge this, trust an audience with it and resist the temptation to apologise for its lack of political correctness. Alas,
John Fulljames
at
Garsington Opera
is the latest in a long line of directors who've bent over backwards to make it palatable to modern sensibilities.
Ferrando loves Dorabella, Guglielmo loves Fiordiligi, but both men are gulled by wily Don Alfonso into testing their future brides' faithfulness by donning disguises and attempting to seduce each other's partner. Of course it's distasteful, but so are The Merchant of Venice and large swathes of The Bible.
Conductor Douglas Boyd in his programme note compares Così to a laboratory experiment, a line that the most satisfying of recent productions, Harry Fehr's for Opera Holland Park in 2012, pursued to its logical conclusion. Fulljames, by contrast, creates a 21st-century context for his characters' behaviour by locating the opera at a military nuptial celebration where everyone's boozed up and Don Alfonso is a cynical older officer with mischief on his mind. He feels free to toy with the impressionable subalterns because, in his eyes, what happens at a wedding stays at a wedding. There's nothing ambiguous about the character here: he's merely doing it to piss on a day of joy – at one point more than figuratively.
The production is tipped further out of balance by the character of Despina, here a fusspot wedding planner sung by Lesley Garrett, who appears to have more stage time than Don Alfonso. It's inevitable that she should, given her mother-hen place at the centre of Fulljames's concept, but it makes a nonsense of her realisation at the opera's end that she's been duped into abetting such a mean-minded man.
'ravishing playing'
Garrett is fine, if too bird-like in her vocal and physical mannerisms, and the mellifluous baritone Neal Davies is even finer as an insidious Don Alfonso. A sizeable company of supernumeraries deliver the tiny amount Mozart gives them with elegant charm and, more significantly perhaps, help bring the wedding to lairy life in designer Dick Bird's progressively trashed marquee.
Which brings us to the lovers. Kathryn Rudge is an adorable Dorabella: she sings with a fresh, uncomplicated Mozartean mezzo, and tenor Robin Tritschler and bass Ashley Riches are equally headstrong and characterful as the young men. As for the fourth and, arguably, most significant member of the quartet, it may not be Andreea Soare's fault that her voice seems to catch an acoustic edge within the glass-and-perspex architecture of Garsington's splendid pavilion but her soprano timbre, while perfectly secure, is neither fluid nor subtle enough for Fiordiligi to wring our hearts.
Boyd coaxes and caresses an evening of ravishing playing from the Garsington Opera Orchestra. Yes, there were a few moments on the first night when stage and pit found themselves slightly at odds, but those will surely be ironed out. It is a marvellous interpretation of what is, for many, one of the most sublime scores in all music.
Ultimately, though, the production is so busy following its own path that Mozart's Così fan tutte gets lost amid the false notes. Despina's 'Mesmer' scene is translated into fun with a defibrillator, and when Guglielmo admits Dorabella's inconstancy to Ferrando it's not a portrait that he shows his friend, it's her thong. But that's weddings for you: enjoyable at first; tiresome by the end when everyone's wasted.