The Magic Flute (London Coliseum)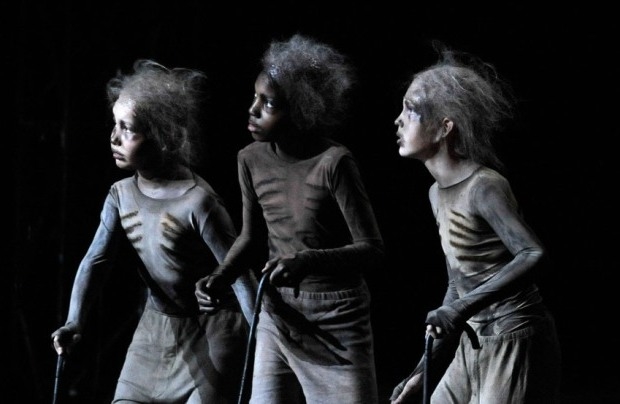 How can a ho-hum show morph into something close to a five-star special? Essentially this is the same production of Mozart's Singspiel that opened two-and-a-bit years ago; but this time, believe me, it rocks.
Then I thought it a passable Magic Flute in which director Simon McBurney took the easy route of trotting out some 'Best Of Complicite' tricks for theatre-averse operagoers who may not have seen them first time round. This time the tropes feel integrated and purposeful – even the time-honoured flapping paper birds – because the show itself has found its funny bone. A mostly new cast, buoyant and gleeful, delivers an evening of joy that's wonderfully conducted by Mark Wigglesworth. There a buzz of confidence to McBurney's self-directed revival; moreover it's infectiously good-natured, and that's what unstraps the audience's capacity for wonderment.
Spotlit throughout, English National Opera's music director fashions a performance of great charm and visible delight that makes the ideal balance and momentum seem effortless. Wigglesworth's headlong dive into the overture cuts through the pre-show chatter without so much as a by-your-leave (and what better time could cash-strapped ENO have chosen to celebrate its orchestra in full view, as Michael Levine's design requires?) while on either side of the stage Foley artists Robin Beer and Ruth Sullivan set to work on their live illustrations.
'A diamond evening'
Allan Clayton's Tamino sings like an angel and mugs in saucer-eyed puzzlement as three libidinous Ladies (Eleanor Dennis, Catherine Young and Rachael Lloyd) invade his personal space a little too freely. He gets tetchy with Papageno before falling head over heels for Lucy Crowe's radiantly sung Pamina.
Canadian soprano Ambur Braid's wheelchair-bound Queen of the Night is stripped of all glamour; but in "Der Hölle Rache", the great showpiece aria, her claw-fingered witch seemed almost to cackle the coloratura in a hair-raising effect. As for John Graham-Hall's angular Monostatos, he proves that there is little on earth more evil than a man with a combover. (The poor tenor seems to be cornering the market in repellent figures, with this following on from his mammarily endowed Witch of Endor in Glyndebourne's Saul.)
One welcome returner is James Creswell as a dignified and mellifluous Sarastro, and he is joined on the side of the good guys (though in The Magic Flute that is not necessarily a simple characterisation) by Darren Jeffery as a notably strong Speaker and an excellent trio of wizened little man-boys as Tamino's guiding lights.
The only flaw in a diamond evening – and it's down to the casting director, not the singer – is Peter Coleman-Wright's grey-haired, middle-aged Papageno. He is an unlikely friend for young Tamino, who is obliged to keep him in check, a dubious befriender of Pamina and an inappropriate suitor of Soraya Mafi's 18-year-old Papagena. The Australian baritone is a distinguished artist but suspension of disbelief only goes so far. At least, praise be, wisdom has prevailed in this revival and they've junked the noxious melodica his character used to play.
The Magic Flute runs in repertory at the Coliseum until 19 March.