Emma Thompson and Bryn Terfel's Sweeney Todd headed to ENO in 2015?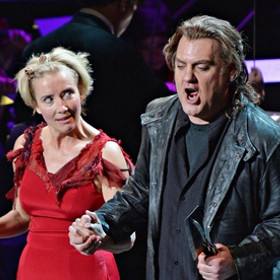 As previously rumoured, Emma Thompson and Bryn Terfel could be returning to the London stage in the production of Sweeney Todd that premiered at the Lincoln Centre in New York earlier this year.
The show will come to the English National Opera in Spring 2015, according to the Daily Mail, accompanied by the ENO orchestra.
It played a limited run in March, with opera star Bryn Terfel taking the title role in Sondheim's gory musical, and Emma Thompson playing the pie-making Mrs Lovett. Directed by Lonny Price, it featured musical direction by Alan Gilbert.
Thompson would be returning to the London stage for the first time in 25 years, having last appeared in Judi Dench's production of Look Back in Anger with Kenneth Branagh.
The production would be in line with ENO's new commitment to musical theatre which was announced back in April.