Jenna Russell and Jonathan Slinger return to Urinetown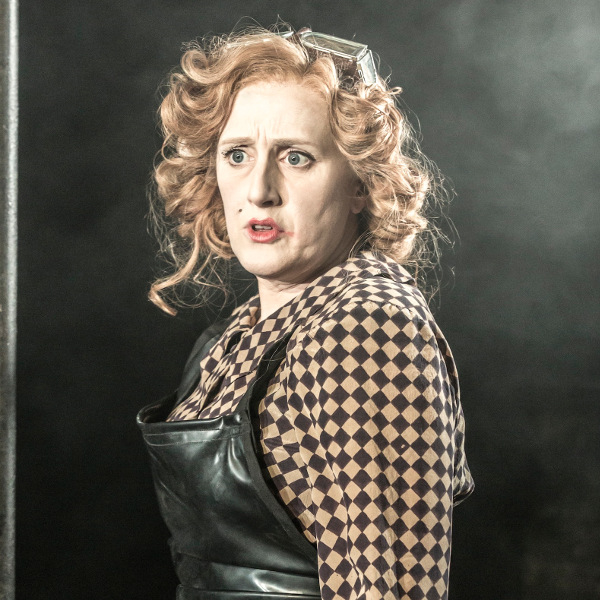 Jenna Russell will lead the cast of the West End transfer of Urinetown when it opens at the Apollo Theatre in September.
The musical theatre star will reprise her role of Penelope Pennywise from the St James Theatre run in Jamie Lloyd's production.
Richard Fleeshman will not return to the show, citing 'other commitments' on Twitter, but he wished it every success.
Many of the other cast members from the St James will return, including RSC actor Jonathan Slinger who plays Officer Lockstock and Eastenders' Marc Elliott who plays Mr McQueen.
Others resuming their roles from the run include Chris Bennett (Swing), Katie Bernstein (Little Becky Two Shoes/Mrs. Millennium), Cory English (Old Man Strong/Hot Blades Harry), Madeleine Harland (Soupy Sue), Rosanna Hyland (Hope Cladwell), Karis Jack (Little Sally), Julie Jupp (Old Woman/ Josephine Strong), Aaron Lee Lambert (Billy Boy Bill/ UGC Executive), Mark Meadows (Senator Fipp), Joel Montague (Swing) and Jeff Nicholson (Tiny Tom/ Dr. Billeaux).
Full casting is to be announced.
Written by Mark Hollmann and Greg Kotis, Urinetown is set in a Gotham-like city of the future, where a hero leads the people in an uprising against private toilets.
Urinetown is designed by Soutra Gilmour, with choreography by Ann Yee, lighting by Adam Silverman, sound by Terry Jardine and Nick Lidster and musical supervision by Alan Williams.
The transfer will make it a hat trick for Lloyd in the West End, with his Trafalgar Transformed season at the Trafalgar Studios, and musical The Commitments.