Uncle Vanya/Three Sisters (Wyndham's Theatre)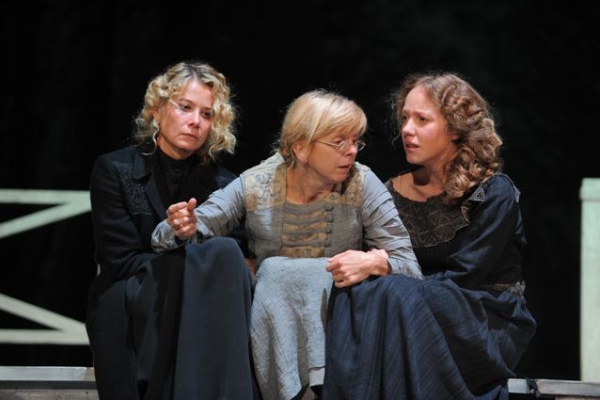 There has been no shortage of Chekhov plays in the capital in recent years, but this brief visit by the Mossovet State Academic Theatre is a rare opportunity to see two of the playwright's most famous works performed side by side in their original Russian. There are obvious and occasionally illuminating links to be traced between Uncle Vanya and Three Sisters: the preoccupation with work, the aimless philosophising, the dull onwards march of life. Here, those resonances are drawn out, but never developed much beyond mere observation.
Director Andrei Konchalovsky sees Chekhov's pair of dramas through the past, darkly. The plays are firmly set in the time of their writing, samovars and all, but overlaid with striking glimpses of the future to which the characters so often cast their minds. Throughout the lengthy, labour-intensive scene changes of Uncle Vanya, projected clips of a traffic-clogged modern street present the polluted end-point of the destruction that Astrov sees ravaging Russia's forests, while in Three Sisters we get a hint of the violence that history has in store for the nation. Hints, however, these remain, failing to coalesce into a fully cohesive interpretation.
Konchalovsky is more skilled with images than he is with concepts, his painterly approach to direction producing beautiful, fleeting tableaux. Pages flutter through the air in Vanya's office; the three sisters, arrayed in ghostly white, sway hauntingly on a swing; snow drifts to the ground in the dim half-light. The stage is often elegantly arranged, but to little purpose or effect. And the projections that are used throughout, while interesting in theory, too often feel tentative and tacked on.
The performances of the Russian ensemble, though individually impressive in some cases, display the same unevenness as the aesthetic. At times, the frenetic background action is clownish, highlighting the more ridiculous aspects of these characters' static, stagnating lives. We also get a comically overblown Vanya (Pavel Derevyanko), complete with red nose, and an unusually buffoonish, pompous Vershinin (Alexander Domogarov). At the other end of the scale, Yulia Vysotskaya is quietly devastating in both shows, as a girlishly infatuated but eventually worn down Sonya, and then a suitably volatile Masha.
But while a balance of tragedy and comedy is welcome when tackling Chekhov, Konchalovsky's productions have a habit of seeming undecided, with the mood sometimes veering jerkily between the two extremes or opting for easy laughs. Perhaps the confusion of the whole has something to say about the pointlessness that each of Chekhov's characters discovers in their lives, but it can make for frustrating viewing – particularly after six long hours.
Konchalovsky is at his best when conveying the hollowness of these characters' experiences and their painful inability to listen to one another. There is something a little heartbreaking about the way in which words tumble into a void of indifference, each individual insulated from those around them. The director's attempts to knit Uncle Vanya and Three Sisters into a joint meditation on life, time and mortality, however, fall flat. Like the unexplained, white-clad spectre who wanders through the action at odd intervals, these two productions are attractive but ultimately a little directionless.
Uncle Vanya and Three Sister are playing in rep at the Wyndham's Theatre until 3 May.