The Coronation of Poppea (Opera North – tour)
When Raymond Leppard's 1962 Glyndebourne version introduced L'Incoronazione di Poppea to the 20th-century opera audience, with a large modern orchestra and its subtle dissonances smoothed out, the supposition was that early baroque opera had to be changed to match modern tastes.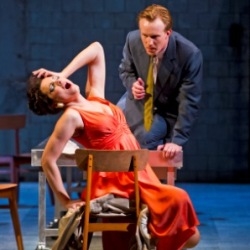 Half a century on director Tim Albery and musical director Laurence Cummings can expect the audience to meet Monteverdi at least halfway. In their vital and frequently inspired treatment for Opera North, authenticity is, in one sense, not the issue – there is no definitive score and any performing version is an act of re-creation – but the opera simply works better in the context of a recognisably mid-17th-century sound world.
The curtain goes up on two groups of four musicians, one at each side of the stage, each led by a harpsichord, a formidable continuo group with a mere two violins for the instrumental passages. Between them a dinner party is in progress around a long table, all the guests, like the musicians, dressed in black. Thus, in the opening moments, the integration of music and drama is established while at the same time the modern dress suggests an absence of stylised gesture and formal attitude.
So it proves. In this Coronation of Poppea everything (in Hannah Clark's designs) is pared down, simplified, but intensely emotional, with a perfect balance between passion and detachment, aided by the framing of the story with the conceit of Amore proving to her fellow-gods that love conquers all.
The story she presents is pretty bloody, though Albery adds a little to the casualty bill without harming the integrity of the opera. Nerone has a mistress, Poppea, whom he wishes to make Empress of Rome. Obstacles stand in his way, notably the existence of the present Empress, Ottavia. The cast list is a typical Baroque confection of A loves B who loves C….. and, in the suspended morality of the piece, perhaps Nerone and Poppea deserve to triumph as the only matched loving couple. Certainly, after death or exile claims their rivals/opponents, they are free to embark on the adoring and achingly beautiful final duet, "Pur ti miro". Amore is right – Love rules, though the possession of power helps, too –and that's the case with the doomed characters no less than the golden principals.
Of two fine counter-tenors (Christopher Ainslie as Ottone the other) James Laing as Nerone stands out for the expressive colouring of his singing and his soaring upper register. He is partnered by the gorgeously self-regarding Sandra Piques Eddy who sings Poppea with passion and precision. James Creswell's sonorous Seneca, Fiona Kimm's knowing and worldly-wise Nurse and Emilie Renard's pert, slightly punk Amore are just some of the joys of a uniformly excellent cast in a totally integrated production.