The Bible: The Complete Word of God (abridged) (tour – Bishop's Stortford)
The Reduced Shakespeare Company has come in for some flak over The Bible: The Complete Word of God (abridged). I really cannot see why this has been so.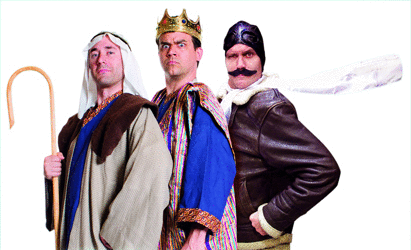 The script and lyrics by Adam Long, Reed Martin and Austin Tichenor have the oh-so-gently-teasing quality one associates with affection and knowledge rather than with mistrust and repudiation and the three performers emphasise this.
There's a running joke about Noah's Ark which culminates in members of the audience performing a version of "Old Macdonald had a farm" not that far removed from a pantomime singalong.
It's difficult to remember that this is not a new show; it was premiered 19 years ago. Jon Weber's "That's Armageddon!" has a very contemporary ring. Director Matt Rippy paces it all with a sure touch.
All those Old Testament genealogies, epic films on Biblical subjects (cue Moses with an unusual version of the Ten Commandments) and a suggestion that the three Magi might have fared better with sat-nav are played out against a split backcloth with elements of Michelangelo's Sistine Chapel ceiling.
Richard Ede is the hapless bearer of the toy Noah's Ark as well as effecting split-second costume, wig and character changes. David Ellis and Gary Fannin buzz in and out of an equally bewildering number of altered states, strumming away on a variety of instruments and manipulating props which range from the obvious to the downright daft.
The Bible: The Complete Word of God (abridged) is on tour nationally until 20 April.