Review: The Snow Maiden (Leeds Grand Theatre and tour)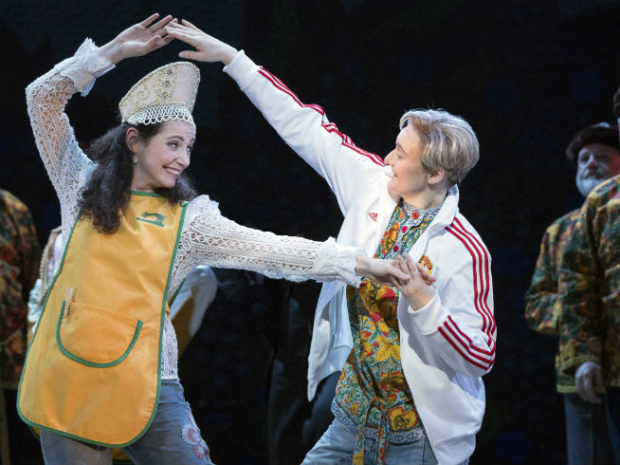 Hot stuff, this wintry tale. Not one for the kiddies. Poor Snow Maiden dreams of falling in love but doesn't know how. Her frigidity repels sexy young Lel, who turns instead to the slinky Kupava, and so she begs her mother to explain the secrets of desire. Newly liberated, our heroine surrenders to a reformed bad boy, marries him, and expires in bliss. Cue a Wicker Man-ish chorus about men sowing their seed and women grinding it.
If that summary seems to cheapen Rimsky-Korsakov's little-seen opera, I assure you it omits nothing but the supernatural element. And since that's of scant interest to the director, John Fulljames, what Opera North is offering is a paean to youthful sexuality that says 'come on in, the water's lovely'.
We need to know the original story, familiar to Russian audiences but rarely told in this country (possibly for the reasons outlined above), in order to understand that the Snow Maiden is far more than Fulljames's contemporary Russian teenager holding down a dead-end job in a sweatshop. She is a symbol: the pagan fruit of a fling between Spring Beauty (Yvonne Howard) and Father Frost (James Creswell). As for horny young Lel (Heather Lowe), he is less a lad than a Love God.
With an opera this new to its audience the overlay of a grim conceptual statement is a wilful act. Rimsky-Korsakov's score is gloriously colourful and aromatic, so why dress the Snow Maiden in a labourer's tabard and jeans? Why tuck the chorus behind Opera North's job lot of sewing machines (last seen in La vida breve) during music that calls for dance and physicality? A little-known fairytale such as The Snow Maiden should be allowed to grip us on its own terms as we discover its secrets.
'Three zinging character songs'
It may be that Fulljames has insufficient faith in the opera's inherent dramatic shape, and here I'd agree with him. Rimsky takes a lot of time and a lot of tunes to tell a very slight tale. But it's the director's fault that the 90-minute first half seems to drag. There are too many follies, not least the decision to have a downstage drop-gauze in place for half the evening's duration so that Will Duke's projections can play before our eyes against Giles Cadle's simple set. The scrim is an optical occlusion that reduces immediacy and, I believe, dims voices. Neither Howard nor Creswell ever gets to sing without it.
Howard nevertheless gives a stellar performance as Snow Maiden's mother, and her farewell song with female ensemble ranks high in the opera's melodic glories. As for Heather Lowe as Lel, this rising star acts the man with louche attractiveness and gets to sing three zinging (though entirely undramatic) character numbers.
Soprano Aoife Miskelly is vocally radiant in the title role, Elin Pritchard likewise as Kupava, and that venerable tenor Bonaventura Bottone puts in a good turn as the Tsar. (Try squaring him with a post-Soviet landscape.)
Alasdair Middleton, composer Jonathan Dove's regular librettist, has prepared a close-rhyming translation that won't be to everyone's taste, but I thought it suited the opera very well—even in its Oscar Hammerstein moments. It didn't sound remotely Russian though. Add stylish conducting by Leo McFall and stand-out contributions from the Opera North Orchestra's clarinettists, Colin Honour and Andrew Mason, and this was a Snow Maiden to warm the heart, musically at least. Catch it for that and let your resistance melt away.
The Snow Maiden tours to Newcastle, Salford, Belfast and Nottingham until 24 March