Review: Strictly Ballroom (Piccadilly Theatre)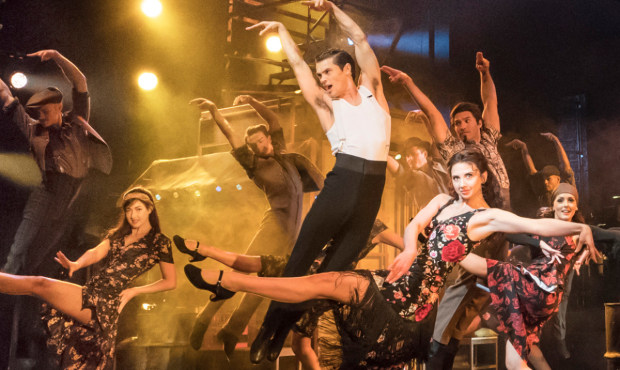 The West End is currently bursting with musicals that are designed to make us forget our cares and woes. 42nd Street, Bat Out of Hell, Everybody's Talking About Jamie, even Tina all thrive with the benefit of a good story about a loser making good, lots of terrific songs and immense lashings of razzle-dazzle.
Now along comes Strictly Ballroom, to out-sequin them all. The show's creator, Baz Luhrmann originally conceived it as a play but it then became his breakthrough debut 1992 film. He then reconfigured it as a stage musical (with a book co-written with Craig Pearce), which premiered in Australia and received its first British production at the West Yorkshire Playhouse in 2016. It's a version of that production, directed and choreographed by the talented Drew McOnie, that now turns up here, working its magic once more.
The story, about the struggles of young Scott Hastings (Jonny Labey) to dance his own steps in the restrictive arena of '80s ballroom, fighting for his art in a world of rules and regulations, is told through a palimpsest of popular music ranging from Bizet and snatches of the Nutcracker to Bowie, Billy Idol and Sting. It's not so much a jukebox as a pulsing soundscape, full of familiar melodies and rhythms, underlining the frenetic action with its slightly melancholy, thoughtful tinge.
All the songs are sung by Will Young, playing Wally Strand, "the loose-hipped legend of the Sydney ballroom", who presides over the action in a black, sparkly catsuit, like a moustached fairy godmother. His benign, slightly sardonic presence is a boon: constantly onstage, twining himself in and out of the action, he provides scene-setting, barbed comments on character and emotional explanations. His singing voice, fluid and strong, casts its own spell, bringing a kind of pop pizzaz to proceedings.
This is the trick of this slightly strange construct. It has a real message – follow your dreams, don't live in fear – but unfolds like a fairy story. Soutra Gilmour's set (crammed with the excellent band on the stage) has bright neon lights glimmering over backstage tat, brilliant bulbs and battered drinks machines. The characters are played as caricatures – particularly Scott's shrill mother (Anna Francolini, revealing a nice line in frozen smiles), his ineffectual Dad (Stephen Matthews, excellent and touching) and the evil judge Barry Fife (Gerard Horan, having a ball) plotting young Scott's downfall.
This over-the-top campness produces some truly funny moments: Lauren Stroud has two marvellously mad entrances as Scott's grumpy dancing partner Liz, bowing the other dancers with the force and duration of her scream; the auditions for a partner to replace her are a broad-brush frieze of cliché. But it does also reduce the emotional impact of the piece. It is only when Zizi Strallen's wonderfully rounded Fran is on the scene that the story really takes flight.
Fortunately, she is around quite a lot as Scott reluctantly takes her on, takes off her glasses, and discovers she is a star. Her yielding gentleness, her gradual journey from clumsiness to confidence is beautifully and tenderly charted by Strallen, who also dances like a dream. As Scott, Labey, best known from EastEnders and the ITV dance competition Dance Dance Dance, has bags of charm and energy, although he isn't perhaps as sensational a dancer as his character is supposed to be.
McOnie has surrounded the action with a chorus of dancers in black tie and brilliant tulle, who waft around, overlooking events like ghosts from a dream, stepping into the action when required. His choreography throughout is sensational and inventive; his direction fluent, keeping control of the frenzy. I did just long, however, for one moment when the busyness stopped and you had the pleasure of watching Scott and Fran dance together; the glimpses we get are uplifting.
As it is, the undoubted highlight is the first act finale, when Fernando Mira as Fran's father Rico shows Scott exactly the passion required to dance a real Pasodoble. He brings the house down, reminding everyone of the power of dance to ignite emotion.