Review: Julius Caesar (Bridge Theatre)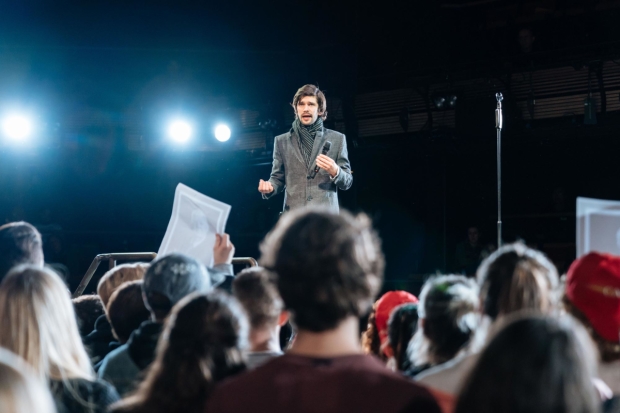 I have a confession to make. If I was asked to nominate one Shakespeare play that I happily would never see again, it would probably be Julius Caesar. For all its apparent topicality and searing political themes, it has a good first half and then collapses into endless battle scenes.
So it is the greatest tribute I can pay to Nicholas Hytner to say that if you are going to see Julius Caesar his new production at the Bridge is probably the version to see. Judiciously cut, thrillingly imagined, it makes as good a fist of the story as you could hope.
It is presented as a promenade production, though you can chose to sit (I did). The crowd, who form the plebs and the mob, have to work quite hard: holding up posters, cheering, lying on the floor, even passing a great sheet of red cloth over their heads when Julius Caesar makes his triumphal but fatal approach to the Senate, where Brutus and his fellow conspirators will kill him.
But the ripple and rhythms of their movements, their attentive listening and reactions, led by actors and by a remarkably effective team of wranglers, give the production enormous dramatic punch. You see it in the opening scenes when David Calder's confident Caesar swaggers through their midst, his red baseball cap and bottom-jutting walk giving just a hint of an American president who is also adored by the masses.
He's followed by Mark Antony, all brawling energy and fawning affection, in a track suit bearing his name. Brutus, however, is a nervously self-contained academic, signing copies of his book on political theory, a hero in his own way. The crowd reacts to them all, so that by the time Michelle Fairley's steely, scheming Cassius sits down to discuss populism and the democratic republic of Rome and incite Brutus to murder Caesar, the fault lines of the play are perfectly explained.
Bunny Christie's design is a miracle in this promenade setting. Using platforms that rise and fall, she sets the scene with simple props and evocative stage dressing – the warmth of Brutus's study, the red-throned grandeur of the Capitol, the battle-scarred wasteland of defeat.
Hytner's concept is to hint at contemporary relevance without ever laying it on with a trowel. This Julius Caesar is both topical and universal. This yields particular dividends in the playing of Ben Whishaw's Brutus, a charismatic but fatally flawed liberal thinker, forever stroking his beard and eyebrows, bespectacled and blinded by his own cleverness to the fact that every decision he makes is wrong.
The contrast between his arrogant speech to the crowd after Caesar's murder – a shooting not a stabbing – when he assumes that the crowd will automatically understand that he did it for the good of the country, and Mark Antony's direct appeal to the emotions of his "friends, Romans, countrymen" is beautifully managed. Remain and leave positions in the Brexit referendum spring unbidden to mind.
Both Whishaw and David Morrissey as Antony give detailed, insightful performances, drawing every twist of thought and emotion from their parts. I particularly liked the way that Whishaw makes Brutus seem physically removed from the world, separated behind the glass of his own thought. His fastidious dislike of being seen as a killer makes him almost ludicrous; you have to keep reminding yourself that his arguments against tyranny are by and large correct.
Morrissey on the other hand gives a funeral oration of impassioned charisma, but reveals the political calculation beneath the bluff, warm exterior. His drunken entrance to Caesar's house makes him seem lovable; his ferocity once he sees power within his grasp is chilling.
As a gender-shifting Cassius, Fairley is equally powerful. Her carefully-measured, smooth-voiced arguments are compelling and there is just the slightest suggestion that her friendship with Brutus may spring from a deeper love on her side. Calder's truculent certainty as Caesar makes you miss him when he's dead.
The whole thing, with its loud soundscape, blinding explosions, and fierce sense of drama fairly zips along, coming in at around two hours, without an interval. It's visceral and invigorating and made me feel Julius Caesar is a play worth watching. Which is quite an achievement.
Julius Caesar runs at the Bridge Theatre until 15 April.