Review: Hansel and Gretel (Leeds Grand Theatre and tour)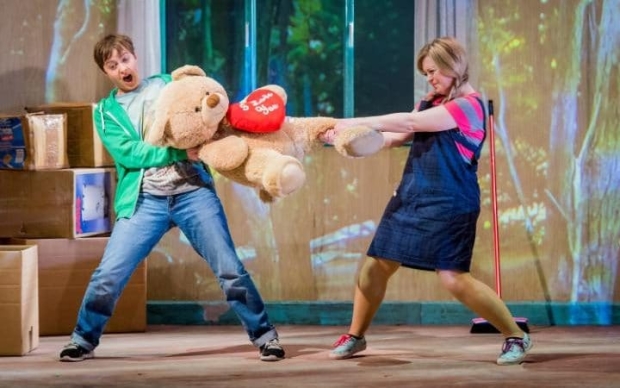 The day I became a father something inside me snapped. I lost the ability to watch harrowing movies or news reports about child cruelty and became irritatingly maudlin about the business of growing up. Three decades on I remain indelibly reprogrammed.
Perhaps that's why Edward Dick's staging of Hansel and Gretel proved so overwhelming to this jaded eye. Will it work for you? It may, but there's also a chance you'll find it too clever by half, in which case feel free to blame me. But see it all the same. Not only does it boast coup upon coup de théâtre, at the end of each act it plays with the passage of time in ways that gave my tear ducts a proper workout.
You know the story: if you go down to the woods today, dear children, just say no to strangers. Humperdinck's much-loved opera is a tune-soaked retelling of the Grimm Brothers' cautionary tale and conductor Christoph Altstaedt treats it to a heartfelt account with the Opera North orchestra that balances the score's Wagnerian glow with a mood of guileless innocence.
Dick's opening scene, though, provokes a groan. Here comes another high-rise horror show, with Hansel and Gretel as Ken Loach rejects left to their own devices by their feckless sot of a mother. Huh: she can't afford to feed her family but there's a state-of-the-art video camera in the room? Typical.
Keep an eye on that camcorder. It gets a bit Blair Witchy later.
'Magic in ways it's better not to explain'
Susan Bullock is an ogress of a Mother, good for nothing but downing lager and lighting up. But the great soprano's prodigious voice is a monster when it's roused and her inner diva gives the scenery a good chewing—although when she's the Witch (in Act Two) she leaves that pleasure to Hansel and Gretel.
Katie Bray and Fflur Wyn tuck in to the title characters with gusto and, in Bray's case, as good an impersonation of a boy as you'll ever see from a young woman. Only her floridly gorgeous mezzo gives her away. Wyn, in the less showy of the two roles, is her ideal foil and has the sweetest of timbres.
There's a fine turn from Stephen Gadd as the children's dad and entertaining cameos in unorthodox guises by Rachel J. Mosley as the Sandman and Amy Freston as the Dew Fairy. As for David Pountney's translation, it's on the lumpy side but it does the job.
The unquestioned star of Dick's production, though, is Ian William Galloway. His video designs against Giles Cadle's shabby tenement room (because, spoiler alert, we never entirely leave it) segue from live filming to hi-tech magic in ways it's better not to explain. I was moved, amused and amazed by his sleight of hand and, in Humperdinck's 'dream pantomime', reduced to tears (#1) by his illustration of the children's remembered happiness.
Dick's inventiveness brings sweet solutions to every puzzle he sets himself, none more extraordinary than his breathtaking and wholly unexpected closing scene for the resurrection of the Witch's victims. That accounted for lachrymal episode #2. Honestly, the dad in me had trouble coping.
Hansel and Gretel tours to Newcastle, Salford, Belfast and Nottingham until 25 March.
N.B. At certain performances Heather Lowe and Ellie Laugharne appear as Hansel and Gretel, with Phillip Rhodes as Peter (their father) and Sarah Pring as Mother/Witch.