Review: Emilia (Shakespeare's Globe)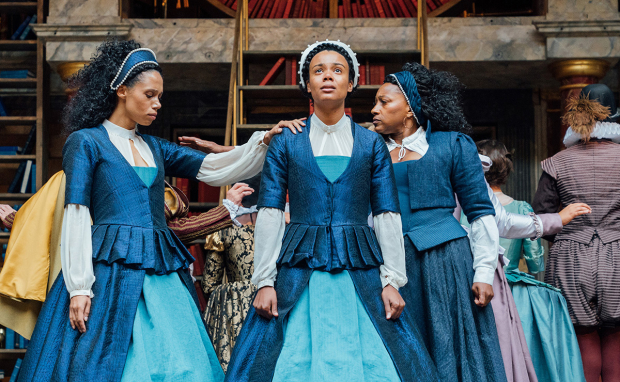 "Search for this now and you won't find it", we're told by an ageing Emilia Bassano towards the end of Morgan Lloyd Malcolm's brand new play at Shakespeare's Globe, the first piece of new writing in artistic director Michelle Terry's inaugural season.
Because Bassano's tale is missing, the exploits and deeds of her life and writings in the sixteenth century have been largely scrubbed clean from history. From what remains of her printed work it's safe to say that she was a poet, a scholar, a teacher, a mother and a radical feminist, but to most academics or vague literary enthusiasts, she's remembered exclusively for most likely being the 'dark lady' of Shakespeare's sonnets.
"Will this be how I'm remembered?" Emilia (played at various points in her life by Leah Harvey, Vinette Robinson and Clare Perkins) demands, bristling with rage when she hears of Shakespeare's moniker, "Is there anything more violating?". Because to have your entire life, all of your academic work and intellectual rigour defined by a single man's character is at best an injustice, at worst an insult.
But history is written by the victor, and as Malcolm's lengthy piece shows, the victor in the sixteenth century (and indeed, most of the time now) was male, white, privileged and uncompromising. The elder Emilia notes at one point "We read what is recorded and see what is missing". That's what Emilia, the play, does so brilliantly; it fills in the gaps.
Starting from Bassano's infancy as the daughter of a court musician and ending with her at the age of 72, we see her grow, leading a tempestuous life full of court intrigue, sexual scandal and political turmoil across the late sixteenth and early seventeenth centuries. She seethes with rage – angry at her position, her sex, the perception of her skin colour. She is bartered with, played with and passed between the men of the court, disgraced and taunted by them whenever she tries to make a stand.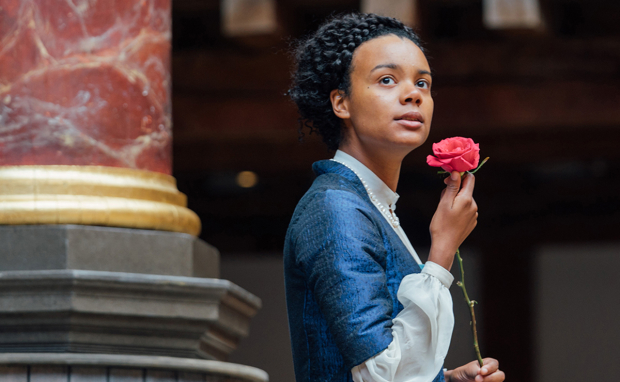 Malcolm writes eloquently, at times beautifully, showing Emilia's suffering and brilliance in equal measure. She also uses the context of the Globe masterfully – shattering the fourth wall with direct address to bring the audience into the story. There are romantic squabbles, fun capers and at one point Emilia's famous Othello act four monologue (since it's been widely noted that that character could have been named after the poet) to add some metatheatrical nuance.
While floundering at times with such a dense sense of plotting, as well as some slightly clunky comparisons to contemporary immigration, the piece has a near-constant humour – aided by some anachronistic dialogue ("are you ready to slay?" Emilia and her court friends are asked before learning to dance) and easy relatability. Nicole Charles' direction is swift and infectiously energetic, with the cast swapping between roles, genders as Bassano's life progresses.
The anachronisms are playfully incorporated into Bill Barclay's compositions – traditional Elizabethan woodwind underscored by a very modern drumkit – chock full of rim clicks and syncopated high-hat. It gives the show a lean, ticking undercurrent. A perfectly charged blend of past and present. It's also helped by Jo Scotcher's set, two sloping ramps burrowing deep into the Globe's yard. Occupying more space and bolstering the show's platform, the all-female cast really does run amok across the entire venue.
It's a cast all very much bringing their A-game – Charity Wakefield, having the unenviable task of playing William Shakespeare within the walls of his very own venue, deftly portrays a complicated version of the Bard (more so than Tom Stoppard and Lee Hall's lovelorn version) despite sporting quite a ridiculous moustache. At times antagonist, other times ally, a suitor with a passion for words and an insatiable attraction for Bassano, Wakefield's verbal sparring with Harvey and her use of Sonnet 130 make for a tantalising spectacle.
Harvey, for her own part, goes on a magnificent journey in the first act from wide-eyed naivety to staunch defiance, while Robinson brings a stiff, resentful stillness to the middle Emilia. It is, however, Perkins' hoarse, breathy final iteration that gives the overall show a caustic fire in its closing moments, as she delivers one of the most politically charged monologues seen on the Globe's stage in years.
An outright feminist triumph and a brilliant call-to-arms, it'll be hard to forget Perkins' closing passage any time soon. Emilia is a rollercoaster production firing on all cylinders and not stopping for a second to apologise.