What did the critics think of Mark Rylance and André Holland in Othello?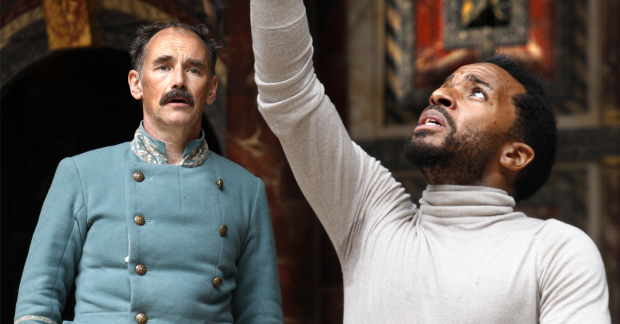 ★★★
"[Rylance] used to run the Globe, and he still owns this space, understands it in his bones, and he owns Shakespeare's language too, living inside it so comfortably that he makes it as easy and effortless as breathing. But his interpretation of Iago is so idiosyncratic a performance that it all but unhinges the play."
"Under the direction of his wife Claire van Kampen, who is best known for her music direction, he plays the character for laughs, finding comic effect in the most unlikely places."
"This leaves Holland's charismatic Othello stranded too… faced with such an innocuous opponent, his descent from decency and love into madness and murder seems even more difficult to understand than usual."
"[The actors] are not much helped by a disconcertingly eccentric array of costumes designed by Jonathan Fensom. While the troops seem to be somewhere in the 19th century, in bright turquoise and red berets, poor Emilia is dressed in a crazy sequence of catsuits."
"That Atim manages to rise above these to produce a performance that develops into one of subtlety and real sad power is an indication of just how good an actor she is."
"In the end, for all the anticipation, this Othello is a disappointment, enjoyable moment to moment but never moving or revelatory."
★★★★★
"It's a theatrical marriage that fits the treacherous hell of Shakespeare's conception to near perfection. By his own admission Holland, from Alabama, is venturing onto terra incognita… By contrast, Rylance declares from the moment he first strides quickly on, in red cap, turquoise tunic and furtive, restless air, that he knows every inch of this exposed stage."
"These two players' marked, diverging relation to the space, then, serves to emphasise the difference between the characters beyond the standard racial distinctions."
"The downside is a sense of compounded understatement – which threatens to make the second-half underpowered; sap the malignancy."
"…Yet helped by sensational performances from the women – Jessica Warbeck's honest, plaintive Desdemona, Sheila Atim's towering, truth-filled Emilia – the horror of what unfolds in the bed-chamber hits duly home."
★★★★
"This is a fine production of Shakespeare's great tragedy that starts off a little rocky but soon builds into something special."
"…the entire cast work together seamlessly. This is not just a star vehicle for Rylance and Holland. Sheila Atim is blazingly good as Iago's wife, Emilia. She has tremendous stage presence and steals the show more than once. Aaron Pierre as Cassio also turns in a fluid performance."
"I am happy to report that the show is gimmick-free. The words are crystal clear if at times lacking in volume. Claire van Kampen directs at a sharpish pace, but then Rylance, who is her husband, did seem to be running high-impact sprints around the stage much of the time."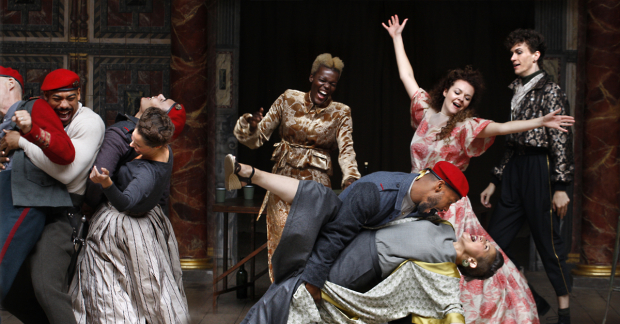 ★★★
"In a costume that makes him look like a fretful flunkey from The Grand Budapest Hotel, [Rylance is] exuberantly animated, skipping and twirling around the stage… It's a larky performance but also a wily one, which invites us to notice how often Iago darkly echoes other people's words."
"Rylance is directed by his wife, Claire van Kampen, who has chosen to present what she calls 'a heavy cut' of Shakespeare's tragedy. Although the play is famously preoccupied with race and racial prejudice, there's a firm emphasis here on two of its other concerns — masculinity and status."
"In the title role André Holland… at first has a compact dignity… When jealousy bites and Othello starts to doubt his own feelings, Holland plausibly shows how his elegance and understated charisma give way to fragile incoherence."
"Around him there's uneven work. Newcomer Aaron Pierre's Cassio has an imposing physicality, but the most transfixing performance comes from Sheila Atim as Iago's wife Emilia."
"The production makes the play's geography feel vague, and the comic flourishes sometimes obscure its emotional weight. But the final scenes retain their timeless, stunning, suffocating power."
Andrzej Lukowski, Time Out
★★★★
"For the best part of 400 years, Othello been treated as a tragedy about a black man… But Claire van Kampen's surprisingly jaunty production for the Globe takes the alternate emphasis: that Othello is a tragedy about a young woman, Desdemona…"
"Rylance, the greatest actor of his generation etc etc, is obviously superb… He's also funny: with the character's more supervillainy speeches pruned in this production, he's got a blithe, chancer-ish energy, a sense that he's making this all up as he goes along."
"Most interesting, though, is American star Holland. He's small and dapper, a ways away from the classic 'miilitary' man, and the most eloquent and erudite character."
"In spite of this undeniable heaviness, Van Kampen's production is kinetic and vivacious. It has the greatest concentration of acting firepower in town and whumps you in the guts at its most emotional points; but it also has genuine laughs and a couple of delightful full-on dance sequences."
"The new Michelle Terry regime at the Globe has had an uncertain start, but this smart, sensitive, surefooted contribution from a crew of old hands goes some way to steadying the ship."
★★★★
"There are a lot more laughs here than Othello usually provokes. In their latest team-up, director Claire van Kampen and husband Mark Rylance turn Shakespeare's tragedy into something like a farce, full of frantic physicality and, in the first half, fun."
"Rylance shows how Iago's impotence and provincialism turn into bitterness. Constantly pacing around the stage, blustering and fretting, he stops properly for the first time when he says 'I hate the Moor'. And it's a line he states quietly, sadly, like it's a universal truth, and don't we all agree."
"As Desdemona's assistant Emilia, a character explored throughout Michelle Terry's inaugural season, Sheila Atim continues to be an extraordinarily captivating actor."
"The only snag is that there is very little spark in the relationship between Iago and Emilia. Individually excellent, they just don't marry well."
"Van Kampen's production is full of raucousness and laughter but, just as in one scene when Cassio suddenly flips from being a merry drunk to a violent drunk, so the production entices by being cheery – until it's not."