Emilia at Shakespeare's Globe: first look at Charity Wakefield playing the Bard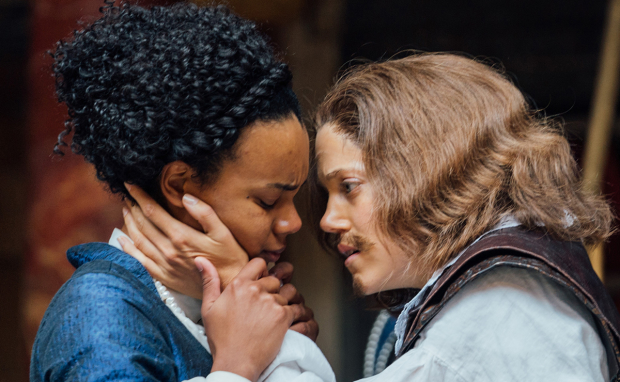 Photos have been released for the upcoming new play Emilia at Shakespeare's Globe.
Penned by Morgan Lloyd Malcolm, the piece follows the untold story of Shakespeare contemporary Emilia Bassano, the first female poet to have her work published. Though most of Bassano's history has been erased over time, she's remembered largely for the possibility that she's the 'Dark Lady' of the Bard's sonnets.
Cast in the show are Leah Harvey, Clare Perkins and Vinette Robinson as Emilia, with Charity Wakefield playing William Shakespeare, Carolyn Pickles as Henry Carey, Sophie Russell as Thomas Howard, Sophie Stone as Margaret Clifford, Amanda Wilkin as Alphonso Lanier, Shiloh Coke as Anne Clifford, Nadia Albina as Lady Katherine, Anna Andresen as Mary Sidney and Sarah Seggari as Lady Cordelia.
Malcolm's play is directed by Nicole Charles with design by Jo Scotcher, choreography by Anna Morrisey and composition by Bill Barclay.