Review: The Winter's Tale (Shakespeare's Globe)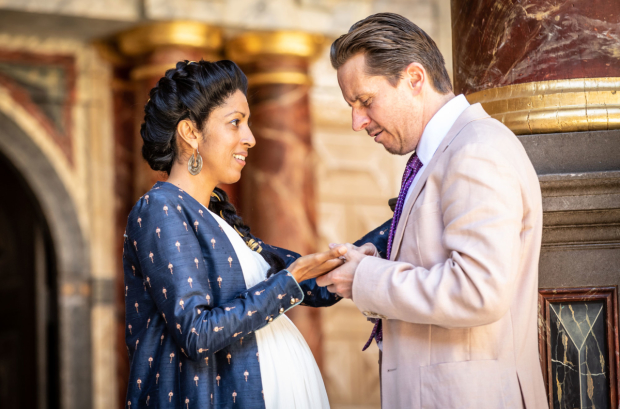 Problem play? What problem play? Blanche McIntyre directs Shakespeare's notoriously tricky-toned tragedy with such a level hand and head that it's hard to notice when the play swerves from high tragedy to happily ever after.
Hard to notice, but not impossible. No-one could totally even out the ending, which finishes with the king of Sicilia dancing a jig despite having been the reason for the death of his wife, son and the banishment of his newborn child. It is an unfounded fit of jealousy which leads him to accuse his chaste wife of making him a cuckold, and one of the big tragedies of The Winter's Tale is that Hermione has to die before Leontes realises what a monumental mistake he's made. His merriment comes after 15 years of mourning. During those 15 years in purgatory, little does Leontes know that over in Bohemia his daughter is growing up a shepherd's daughter, having been left in the woods on his instruction, but saved by two poor souls from being eaten by a bear.
It's a beautiful play, made all the more heady for the awfulness of what Leontes has done and how redemptive the ending is. McIntyre and her cast focus in on the text and the story, rather than adding contextual flourishes and this production therefore becomes a beacon of clarity, carrying the audience along on its tumultuous ride. Bohemia is set in the modern day countryside – there's a little of Jerusalem in the freewheeling dancing scenes – while Sicilia is a cold, courtly, unidentifiable world. It makes sense: it's only in a place as odd as this that faithful, dedicated kings can morph into green-eyed monsters.
Will Keen as Leontes is human and haunted and he balances the right amount of humour and tragedy in his portrayal of the flawed king. But it's the women which really come off well in this production, with McIntyre emphasising their forcefulness, eloquence and wisdom. From Priyanga Burford's strong-willed and ultimately loving Hermione to Sirine Saba's Paulina who is angry and raw as she rails at the king. Saba has a forceful physicality as she shouts and pleads at him to get his act together and see what he is doing to himself and his loved ones.
Becci Gemmell flexes fine comedy muscles as peddler Autolycus and both the young lovers are the epitome of innocence and bravura, with Norah Lopez-Holden's Perdita radiating uncomplicated confidence which enables her to mix easily with both kings and paupers.
The scene towards the end, where everyone disappears and the big reveal is relayed to the audience by a gentleman of the court, is still frustrating. That's despite the fact that Howard Ward delivers it with a funny crowing smugness, basking in the fact that he was in the room where it happened. It jars, of course, as does the happy ending despite what the king has done. But watching this Winter's Tale is nevertheless a delight: Shakespeare at his most sad, his most human and his most joyful.