Review: Così fan tutte (Glyndebourne and tour)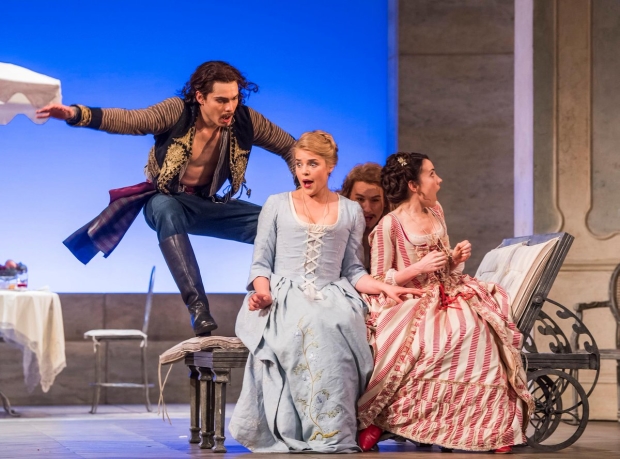 Read what follows with half an eye shut because the concerns may have been resolved by the time this Così fan tutte reaches a theatre near you. I hope so, for Nicholas Hytner's exquisite production has been lovingly revived by Bruno Ravella and is blest with a gorgeous young cast.
Glyndebourne, a company that is hugely attentive to quality control, will surely have been concerned by this second public performance, an account that started well but gradually unravelled and after the interval only held together by the skin of its teeth. The problem? Stage and pit fell out of synch to a degree that became almost painful to hear. All six solo singers were affected to a greater or lesser degree, but the conductor Leo McFall stuck resolutely to his chosen tempos. It was – and I do not write this lightly – the most alarming failure of musical accord I have heard at a professional opera performance.
The issue was all the more galling because much else was so right. The Glyndebourne Tour Orchestra played cleanly and with Mozartean spirit, and every character was portrayed with multi-faceted insight. If tenor Bogdan Volkov (Ferrando) was the best of the men and mezzo Rachel Kelly (Dorabella) the pick of the women, it's only by a hair's breadth. Ilya Kutyukhin, for instance, not only sang Guglielmo with a pugnacious baritone charm, but his acting and reaction work were expertly comic. The young Russian's body language as he entered Dorabella's chamber to do the dirty was priceless.
'The best of all possible Cosìs'
Canadian soprano Kirsten MacKinnon conveyed the troubled Fiordiligi's every anguished thought, and while she lost a touch of intonation in the demanding "Come scoglio", she went on to deliver a powerful "Per pietà" in Act 2. José Fardilha played Don Alfonso as an urbane Mephistopheles and sang with great discretion; Ana Quintans mugged a little too much as Despina and struggled more than most to stay on the beat.
But let's hear it for revivals. It's been quite a month for them. Three beauties from Welsh National Opera, Flute and Vêpres at Covent Garden, a couple of Sevillian Barbers and now this. Glyndebourne has announced that the current tour is the final outing for Hytner's Così fan tutte, to which I say why the hell? After last year's look-at-me fandango at the Royal Opera House and an overstaged circus show at ENO, it's a relief and a joy to see a production that treats the opera on its own terms.
Last year a French Così set the opera in 1930s Eritrea and filled the stage with abusive atrocities; yet for harrowing mental torture it couldn't hold a candle to Hytner's psychologically blasting interpretation. This spare yet sumptuous staging, so elegantly designed by Vicki Mortimer (sets) and Paule Constable (lighting), is a wrong-footer that uses the subtlest of means to nudge its audience's response to base male behaviour. It smacks a lot of Les Liaisons dangereuses.
Glyndebourne, then, possesses the best of all possible Cosìs, and a glance at recent headlines underlines its relevance. So start a petition, slap a preservation order on it, invoke Article something-or-other… do anything to save it for the nation. But go and see it first. And good luck with the other stuff.
Così fan tutte runs in repertory at Glyndebourne until 26 October, then tours to Canterbury, Woking, Norwich, Milton Keynes and Plymouth until 30 November.