Privacy (Donmar Warehouse)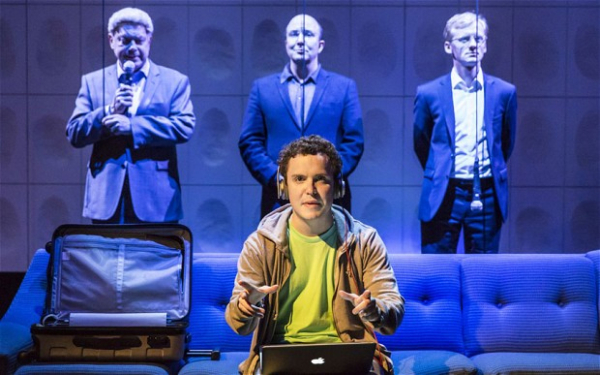 In his last play, the sell-out National Theatre hit This House, political playwright James Graham had his magnifying glass planted firmly on the House of Commons. For his latest investigation, Privacy, the focus is on government surveillance agencies in the wake of the Edward Snowden revelations.
In a therapy session with psychoanalyst Josh Cohen (Paul Chahidi), Graham places himself centre stage as a lonely playwright (Joshua McGuire) trying to discover himself. His director (Michelle Terry), evidently based on Donmar artistic director Josie Rourke, convinces him to write a play about online privacy, his position as a "blank canvas" with no previous digital footprint making him the ideal candidate for the role.
Through verbatim interviews with politicians – including a nice turn from Gunnar Cauthery as William Hague, "Nothing to hide, Nothing to fear" – journalists, campaigners and other industry experts, the secret world of online snooping is laid out for us all to witness.
Owners of smart phones are encouraged to keep their phones on and during the production we are invited to Google for pizza, check our rather unbelievable location settings and take selfies that we send to the show's on-stage researcher (Harry Davies). One instance of audience interaction led to some quite shocking discoveries, although, as per their request, details of this will remain private.
The exceptional cast is tasked with taking on multiple characters. Jonathan Coy transforms seamlessly from David Davis MP (who was present in the audience and seemed to approve of the impression) to Paddy Ashdown, Ewen MacAskill to Clive Humby, creator of the Tesco Clubcard. Nina Sosanya makes light work of switching between Guardian US editor-in-chief Janine Gibson and director of Liberty Shami Chakrabarti (also present and equally as impressed), among others. Chahidi's Cohen is superbly accompanied by impressive mimicry of Google chairman Eric Schmidt and Sir Malcolm Rifkind.
But standout performances come from the play's two lead characters. McGuire's ebullient performance drives the information-laden play through to its startling end. Meanwhile Michelle Terry's performance as the director is overshadowed only by her own impeccable enactment of a 16 year old interviewee.
Rourke has directed another stunner for the Covent Garden venue and the creative team consisting of Lucy Osborne (designer), Richard Howell (lighting) and Christopher Shutt (sound) excel in their respective departments. Special mention should be made to Duncan McLean (projection designer) and Anthony Lilley (interactive content designer) for the stunning projection, the likes of which I haven't seen at the venue since Frost/Nixon.
Privacy is an important piece of theatre, not only tremendously acted and produced but also challenging, thought provoking and enlightening. It will have you laughing, gasping and changing the settings on your phone.