Pomona (Orange Tree Theatre)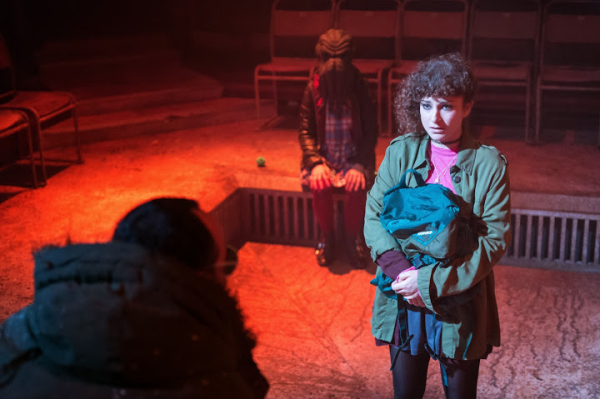 Is the Orange Tree Theatre's new artistic director Paul Miller working on attracting a new kind of crowd?
One might say so, judging by the average age of those present at the press night for Pomona, Alistair McDowall's creepy, complex thriller. This may be a good thing for the theatre, judging by how many times silver-haired visitors have been spotted slipping into a gentle snooze during productions to date. Judgement reserved for the rest of the season!
But back to Pomona, a lushly plotted, intricate piece of rings and roundabouts, unexpected turns and half-real conclusions, brought to life by lighting designer Elliot Griggs and sound designer Giles Thomas. Ostensibly about a girl (Ollie) looking for her lost sister somewhere within the M60 ring around Manchester, it soon becomes obvious there is far more at stake. This is a play about honesty, knowledge and friendship, all of which are easily corruptible.
What's Pomona, then? A real place, actually, an island in the middle of Manchester, a slip of derelict scrubland between canals, with just one footbridge for access. Exactly the kind of place an imaginative mind should – and has – run riot over. McDowall delights in walking the line between reality and fantasy, twining narratives around fixed points, turning understanding into confusion. Is it a game? Is it real? Who knows… This is shimmering, shivery fun, all grounded by pure nastiness – the core of which is revealed the deeper into Pomona we tread.
Director Ned Bennett has struck gold with his energetic, committed cast. Nadia Clifford plays Ollie with just the right mix of insouciance and jitteriness, utilising great movement direction from Polly Bennett, while Rebecca Humphries's Fay is a woman on the brink, teetering on the edge of exposure at all times, integral and yet somehow at the edges of it all. Sam Swann, too, is outstanding as gamer Charlie, geeky and lonely, who reveals too much of himself while not asking enough questions. It's a moreish, distressingly accurate performance.
Seriously dark but studded with numerous laugh out loud moments, Pomona's strong, winding structure will keep you guessing until the end, and at an hour and three quarters straight through, the writing is so good you barely notice the time passing. Don't miss out.