Ordertorium: the app that brings drinks to your seat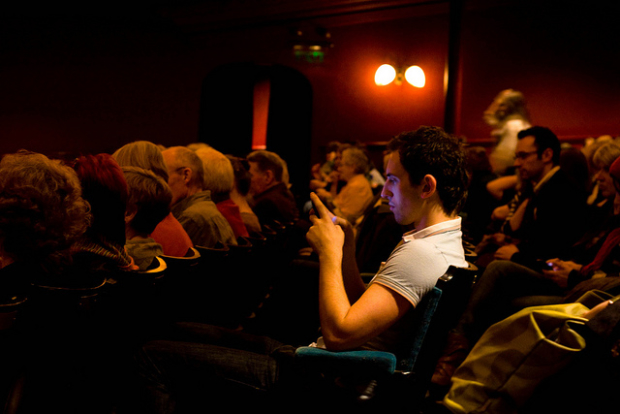 I was recently at the Apollo Victoria on a packed out evening for Wicked. It's one of my favourite theatres, with the foyer and bar area aptly illuminated bright green. However it's also an absolutely huge theatre, and with over 2,000 people clamouring for the bar before the show and during the interval it can be a little terrifying.
With that in mind, I decided to try the theatre's new Ordertorium seat delivery app – where you order your drinks on your phone and they are delivered straight to your seat. The app was launched in October 2014 and is currently available in 12 ATG venues nationwide (8 London theatres, 4 regional theatres), although, according to the ATG website, this is expanding soon .
The first step is downloading the app on your phone (it's available on both iPhone and Android). If you're lucky enough to get signal in the potential dead zone of a theatre auditorium or there's Wi-Fi, it will use your location to work out which theatre you're in. This seemed a little patchy though as it thought I was at Jersey Boys in the Piccadilly Theatre over a mile away. If you don't notice this quickly then someone else on a night out will get a lovely surprise!
The app itself is simple and easy to use. Once you've got the right location, time, date, seat numbers and area of the theatre, it's onto the menus and money spending.
It's hard to go wrong selecting your drinks with the options being 'white wine' or 'red wine'. The menus offer drinks, snacks and treats, ice cream and variety boxes, but the painful part is seeing how much a 175ml bottle costs in a West End theatre these days: £7.50 for a small wine?! *cries*
Once I had selected my drinks (two tiny wines) and my snacks (wine gums – mainly because they weren't going to smell like the sushi our neighbours were eating), you select pre-show, interval or both and then it's a simple case of inputting your details, parting with your money and sitting and waiting for an usher to come find you. Ours appeared with a stash of bags about five minutes later to dish out the booze and sugary snacks to me and the other people in our area who had also used the app.
If you just can't be bothered with navigating the bar on a packed night out then this is a great app. It worked well for surprising my plus one with an extra birthday drink whilst they were fighting the queues for the toilets, and it also made us feel a bit more VIP than unusual with extra service. Plus the usher was gorgeous – added extras…
Overall, this app is a great idea: it does exactly what it says on the tin and makes life that little bit easier. If I'd planned ahead I could have ordered drinks before even arriving at the theatre. But the outraged theatregoer inside me couldn't help but feel that ultimately this is just one more way to facilitate audiences spending more money. It also encourages more people to get that little bit more drunk, eat noisy snacks and leave more litter. And maybe we could do with a lot less of that?