La traviata (Royal Opera House)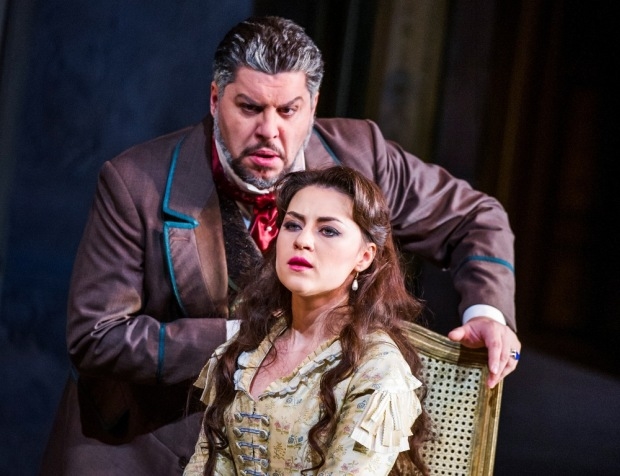 This may be the ump- (all right, thir-) teenth retread, but in its latest incarnation Richard Eyre's 1994 production of Verdi's opera is fresher and better focused than most predecessors that I've seen. It has been crisply and carefully revived by Daniel Dooner, a shrewd director who has not been afraid to make subtle adjustments along the way, and is splendidly cast with the right voice types and at least one exciting discovery.
Conductor Yves Abel's way with the Prelude didn't inspire hope – there were a few rhythmic issues and he's not one to shrink from an oom-pah – but happily he went on to shape an eloquent, generous account that gave sympathetic support to all his singers, not least Samuel Sakker, the Jette Parker Young Artist who stepped in on the day for an ailing Saimir Pirgu.
Sakker's pleasingly resonant tenor timbre is well suited to Alfredo, and as a cover he had all the moves under his skin so the evening was not unduly impaired. There was a sense, though, that his Violetta was a little tense in their moments together, understandably so, compared to the liberated engagement of her scenes with Germont père.
Violetta, and I've been busting to tell you this, is the glorious Russian soprano Venera Gimadieva who sang the same role with such radiance at Glyndebourne a year or two back. Here on her Royal Opera debut she surpasses even that achievement with a voice that blends Rossinian warmth and late-Verdian power, rock-solid technique and perfect intonation, together with a riveting stage presence. Gimadieva is the most moving Violetta I can recall: she inhabits the heroine's story arc with total commitment from her first-act set piece "È strano! È strano!" to her devastating death scene. It's no slight on the admirable Sakker to say that I'd love to have heard her with Pirgu.
So to that discovery. Parma-born Luca Salsi, who appears to have sung hitherto in every country bar the UK, is a first-rate Giorgio Germont and on this showing the Verdi baritone we've been waiting for. Dark of tone yet never gruff, jumping from sternness to tenderness in a twinkling, eloquent and clear, his version of Alfredo's father succeeds in being simultaneously resolute and faltering, unyielding and compassionate, forbidding and lovable. He makes us understand why, in spite of everything, the dying Violetta would ask him to embrace her.
Eyre's production, richly designed by Bob Crowley and exquisitely lit by Jean Kalman, hasn't dated a jot over its 22-year lifetime (unless you're a jaded regular, perhaps) and it continues to provide a stylish theatrical playground where the world's top Verdi singers come to strut their stuff. This, the first of two 2016 revivals, also boasts a thoroughbred supporting cast to complement the three leads. It may not be the starriest Traviata you'll see, but it is one of the best.
La traviata will be relayed live to cinemas worldwide with this cast (including, presumably, a restored Saimir Pirgu as Alfredo) on 4 February 2016.
It runs in repertory at the Royal Opera House until 6 February, then returns for a further run of performances, largely recast, between 1 and 19 March.