Exclusive: Print Room stages Will Eno's Title and Deed and Robert Holman premiere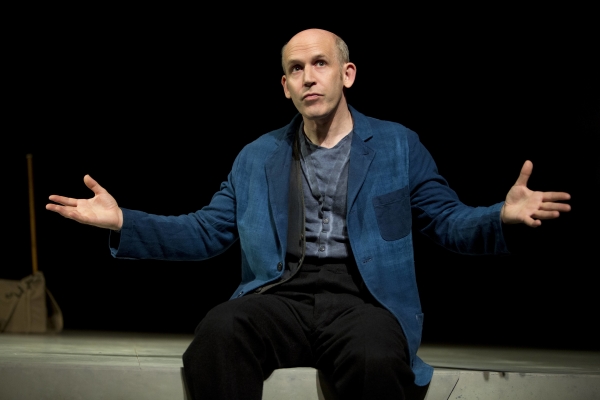 The second season at the Print Room at the Coronet will feature the London premiere of Will Eno's Title and Deed and the world premiere of Robert Holman's A Breakfast of Eels, WhatsOnStage can reveal.
The Print Room moved to the Coronet – a former Victorian playhouse and cinema – earlier this year, opening its first season in October.
The second season opens from 14 January to 7 February 2015 with Will Eno's one-man play Title and Deed. Performed by Conor Lovett, the production was acclaimed at this year's Edinburgh Fringe and won Lovett The Stage Award for Acting Excellence.
From 23 to 28 February 2015, the Print Room presents a week-long dance festival, 1898, featuring four short pieces celebrating the year the Coronet was built choreographed by three emerging choreographers and Print Room artistic associate Hubert Essakow.
The final production in the spring season will be the world premiere of Robert Holman's new play, A Breakfast of Eels, running from 16 March to 11 April 2015. Billed as a "beautiful and haunting story about the pain of growing up", it will be directed by Donmar associate Robert Hastie and will star Matthew Tennyson and Andrew Sheridan.
Holman recently told WhatsOnStage about the genesis of the play. "I wrote it initially for Matthew Tennyson, who was in Making Noise Quietly", he said. "I knew I wanted to write a play set in London, and he is a Londoner. I asked him to take me to his favourite place in London and he took me to Highgate Cemetery, which prompted the idea."
The season will also continue the Poetry @ The Print Room strand, with readings by Sean Borodale, Elaine Feinstein and Sean O'Brien on 3 March and 14 April.
Artistic director Anda Winters said: "It has been a source of great joy and pride to have opened our first season in the Coronet, which has been met with such enormous warmth by our diverse audience. With our second season, we hope that our work will continue to attract people from across the city to our new home, and that we will be able to open more of the building for public use."
Productions will continue to be staged in a black box studio within the Coronet while extensive restoration work is carried out. The venue will eventually include three flexible theatre spaces – the largest of which, a 400-seater, will continue to operate as a cinema as well as performance space.
Commenting on the restoration project, Mhora Samuel, director of The Theatres Trust said: "We're delighted to see the Print Room bringing the Notting Hill Coronet back to life… This unique building by well-known theatre architect, WGR Sprague has for a long time been on our watch list and recorded in our Theatres Database as one of London's most spectacular 'Sleeping Beauty' theatres."