A Mountain for Elodie at Edinburgh Festival Fringe – review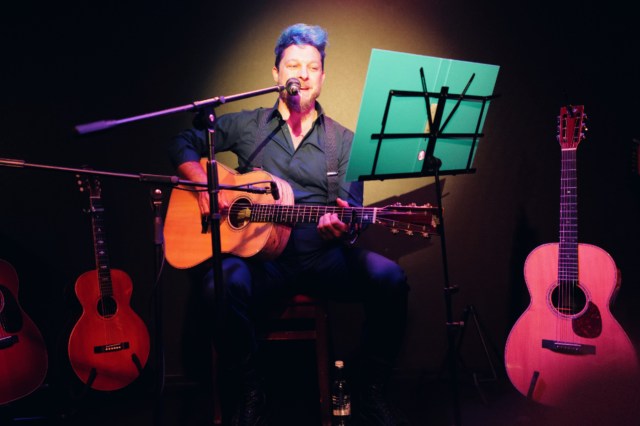 Benjamin Scheuer played over 500 performances of his previous show, The Lion, winning awards both in London and the US. Hopes were then high for the follow-up A Mountain for Elodie, premiering in Edinburgh. The sequel feels more grown-up, the songs and fallibilities of a young man in his twenties, moving to a life fast approaching 40; finding hope in love and family, coming to terms with what being a father means, and how to find artistic expression when priorities change.
The show recaps Scheuer meeting his wife Jemima at an awards ceremony on the Southbank. He reflects on the excitement and loneliness of Trans-Atlantic long-distance before she moves to New York, the pair's relationship issues as his need for touring and performing clash with her need to make a home, before an unexpected pregnancy and the arrival of a baby daughter Elodie changes everything.
Like The Lion, it feels deeply personal, songs created for specific moments and for specific people, not necessarily intended to be performed to a general audience. At moments this can make the thing feel like watching someone's home movie, and this can have the effect of feeling a little indulgent. There is no doubt the songs are strong, folk-inflected melodies, delivered with a gravelly high baritone, but some of the music feels like t hasn't fully made the move from home to the stage yet.
There is something unfinished about the run, even with direction and dramaturgical help from Olivier Award-winning director Polly Findlay. Scheuer has notes written around the stage, reminding him of where he is in the narrative and some of the monologues are read rather than fully performed. This is a shame as when he looks up there is a palpable connection with his audience. He has the showman ability to make everyone feel connected into his orbit.
His musicianship is his biggest strength — there is something thrilling watching a prodigious talent go between five guitars, a piano, and a child's piano to conjure up different sounds and textures in his work. Ultimately the show keeps coming back to fatherhood: what does it mean to be a father, how do you navigate this when you have lost a father in your early teens and no longer can communicate with him about your own changing life role?
Scheuer may not have all the answers, but he possesses love: to his wife, to his daughter and his late-father and the rawness of this is always at the surface; art and reality merging to create something tender and honest.