JB Shorts 10 (Manchester)
JB Shorts celebrates its tenth anniversary with what it does best (and what it has always done)- six fifteen-minute plays by six talented writers.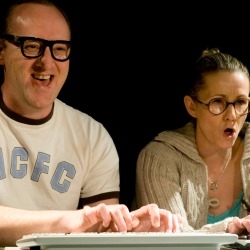 The joy of short plays is sometimes, as artistic director Roger Haines jokes, the knowledge that if you don't like one another one will be along in fifteen minutes, but with JB Shorts the attraction is more the opportunity for diversity it presents. In just one evening you go from a student one-night stand (Big Game) to an alternative view of a meeting between two of the greatest composers that ever lived (Icarus Descending).
While all the plays are well written and produced, some styles do fit the fifteen minute slot better than others. Generally the most successful ones are those which take part in just one scene – Lisa Holdsworth's Big Game is a case in point, set in just one living room it keeps you engaged from the moment Stephen Hoyle's Will wanders out in his underpants desperate to get away from the 'frugly' he has just shagged. Big Game is depressingly current as Leah (Amy Drake) emerges from her bedroom to discover that Will has posted naked photos of her on facebook as part of a game he plays with his rugby friends. Her initial upset turns to understandable frustration as the cocky Will fails understand what he has done.
Special Relationship by James Quinn, meanwhile, is the sort of the clever idea that works perfectly as a fifteen-minute piece. A woman called Brit is advised by a clichéd chic French friend to leave her lover Sam because nobody takes her seriously and she looks ridiculous following him around like a 'poodle'. As the arrogant and very American Sam struts in it becomes clear that Quinn has taken the term 'special relationship' and put his own twist on it. It is funny, original and very intelligent.
The final play of the night revisits characters from JB Shorts 9. Angela (Susan Mcardle) and Andrew (Will Travis) who lied on their online application forms meet again as they bump into each other on two separate blind dates. With their matching laughs and stupid sense of humour, writer Dave Simpson is right to bring their characters back and give them a happy ending.
– Joanna Ing