Review: Rutherford and Son (National Theatre)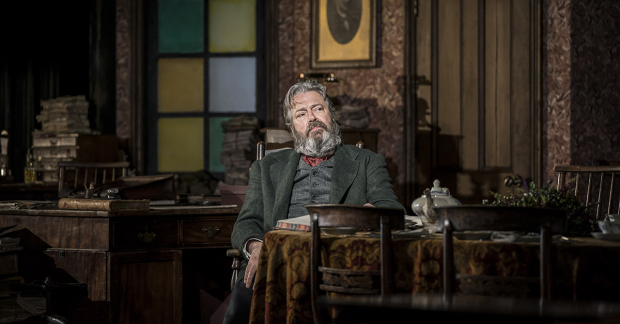 The rain is sluicing down as you set foot in the theatre, pouring from above, cutting off the stage in a great dark curtain. And designer Lizzie Clachlan's vivid imagining of the home of John Rutherford, powerful paterfamilias, determined businessman and domestic tyrant, is one of the great triumphs of this gleaming revival of Githa Sowerby's play.
Written in 1912, one of its themes is the way that the Victorian belief that the family business is more important than the family distorts and destroys lives. It's written with a profound sense of empathy that means even the monstrous Rutherford is understandable. As my niece observed, watching the play for the first time, its culminative sense of tragedy springs from the fact that each character acts in ways they think are right, and each is undone by their choices.
Clachlan's depiction of their home near the glass factory in Tyneside which is the source of their fortune and their misfortune, perfectly captures the constricted nature of the world in which they are operating, the heavy brown trappings of respectability in which thick red curtains shut out the draughts, where Rutherford's desk and the dining table where he holds court dominate the space, and where each character has a chair assigned according to their place.
In this world, director Polly Findlay (and movement director Polly Bennett) orchestrate a subtle dance of meaning; where people sit, and when they sit or stand, create an undertow of significance. When a drunken mother (Sally Rogers) comes to plead against the dismissal of her son, she literally hovers on the steps into the room, not quite sure if she is allowed to enter. Her revelation of a crucial plot point comes when she finally takes off her coat and sits down. Similarly, the family's shifting relationships as they struggle for air against Rutherford's oppressive rule are beautifully observed. Findlay's direction is full of small, telling details that explain unmarried daughter Janet's heartfelt cry: "It's like a prison. There's not a scrap of love in the whole house."
The performances are equally carefully calibrated, magnificent in the depth of their understanding. Roger Allam makes Rutherford a man not a monster. He bullies and bustles and damns his children with a word, but he believes that what he is doing is for the good of future generations. He has remarkable stillness, sitting at his desk, or standing by the fireplace with its mean fire, his eyes the only mobile part of him. After his great confrontation with Janet he hugs his accounts to himself, holding for grim life onto the business that he loves in a way he can't love his sons.
As Janet, Justine Mitchell has a savage irony, a desperation to escape that makes her cling to her love for Martin (Joe Armstrong), a "working man" and Rutherford's right hand for 25 years, like a life raft. In company, she folds into herself, bitter and unyielding; in private agony, she waves her fingers and kicks the grate, trying to control her feeling. Her final great declaration of love, where a smile breaks over her face in her hopes of freedom, and her subsequent collapse are unbearably painful.
But Sam Troughton (last seen at the National opposite Mitchell in Findlay's equally fine-tuned direction of David Eldridge's Beginning) makes the tragedy of John Jnr, Rutherford's oldest son and inventor of a chemical formula that can transform the glass business, equally compelling. He plays this Harrow-educated misfit with a kind of bravura flounce, a wheedling charm and sense of his own rightness, that dissolves into cringing when faced with his father. He waves his arms and adopts the gestures, clothes and vowels of an aristocrat, but is just as trapped by class and the need for money as Janet. As his wife, Mary, her outsider status confirmed by the way she sits silently by the stairs, shrinking into nothingness, Anjana Vasan finds just the right hint of steel from the start to justify her success at the close. Everyone in this play is making bargains, but she strikes the best one.
It's a long, wordy piece, with the heavy three-act structure of its time, but Findlay and the cast make it compelling, wringing every ounce of meaning and sense out of each line. At the close, Clachlan pulls off a wonderfully simple but devastatingly effective coup de theatre, that completes the production's brilliant evocation of a lost but still present world of domestic servitude.