Review: Top Girls (National Theatre)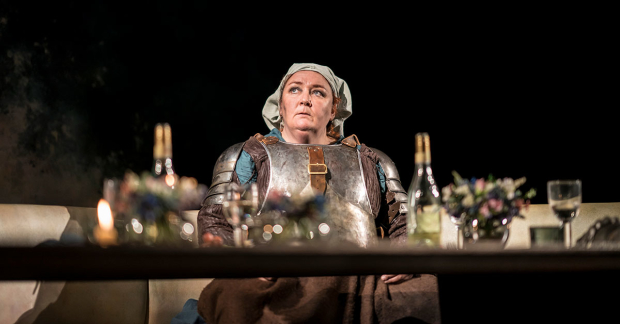 Pope Joan eating cannelloni; Dull Gret raiding the bread basket; Patient Griselda wondering whether to order dessert: the famous opening scene to this, Caryl Churchill's groundbreaking 1982 play, remains just as flavoursome thirty-seven years on.
Our setting is a restaurant – here, a basement dining-room, all inky wall-coverings and low lighting, gorgeously designed by Ian McNeil and Jack Knowles – on a Saturday night in London in 1981. Marlene (Katherine Kingsley) is celebrating her promotion to managing director of employment agency Top Girls. Her guests, unusually, are five long-dead historical female figures, all of whom made their particular mark and some of whom, as a result, met a grisly or untimely end.
The scene owes a considerable debt to The Dinner Party, Judy Chicago's seminal feminist 1970s installation in which 39 place settings are laid around a triangular table for mythical or famous women. But no knowledge of that is needed to enjoy it: most of us have, at some time or another, imagined who we might invite to a celestial dinner, and Churchill has great fun with hers, as the women compare and contrast their variously gruelling experiences, usually at the hands of men.
The cast of this revival, directed by Lyndsey Turner, is on sparkling form here, and the laughs come thick and fast – at the mostly silent Gret (Ashley McGuire), splendid in her armoured breast-plate, and at Joan, superbly played by Amanda Lawrence, as she lurches from Latin oration to drunken vomiting. The scene is strong enough to stand alone, and is often performed as such: here, it's easy to see why – though, at a distance of four decades, it seems extraordinary that the group contains only one non-European woman, and no women of colour.
As always with Churchill, too, fun and laughter come at a price, and the opening scene is only one quarter of her play, which remains unapologetically challenging. The fantastical opening switches to a more broadly realist mode as we move between a cottage in Suffolk and the slick, eighties corporate environment of the Top Girls office.
The sudden shifts of tone and style are disorientating, and there are distinct longueurs, but this production reminds us why the first and final scenes are among the best ever written for the modern stage. All the performances are good here, but Liv Hill deserves a particular mention as Marlene's niece Angie: Hill so fully embodies the role that it's difficult to believe she is making her professional debut.
Turner and her cast excel, too, in excavating the various levels on which Churchill's play operates, and the ways in which it remains eerily relevant to today. On one level, we have a feminist indictment of the sacrifices made by women to succeed in a man's world, particularly when it comes to having children – a situation that remains frustratingly familiar. And on another, we see those successful women – the "top girls" embodied by Marlene – aligned with Thatcherism, a death-of-society individualism in which, as Marlene sees it, only the stupid, lazy and frightened fail to scramble to the top.
Churchill's point remains as razor-sharp in today's divided society as it was in the Britain of the 1980s. It is still, as one character says in this important, must-see production, "frightening".