National Theatre new season includes return of Translations and Lucian Msamati, Alex Jennings and Lindsay Duncan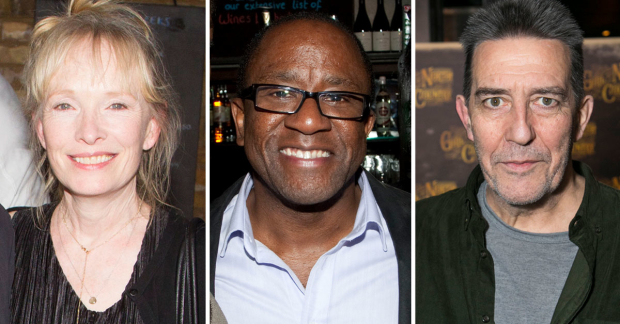 The National Theatre's latest season has been announced, featuring Lindsay Duncan, Alex Jennings, Lucian Msamati, Roy Alexander Weise, Simon Godwin and more.
Hansard, a new play by Simon Woods, will be directed by Simon Godwin in the Lyttelton Theatre. The piece will run in previews from 22 August, with opening night on 3 September. The portrait of the governing class is set in 1988 as Tory politician Robin Hesketh deals with trouble in paradise when he returns home to his idyllic Cotswold house. The show will star Alex Jennings as Robin and Lindsay Duncan as his wife Diana.
Hansard has set and costume design by Hildegard Bechtler, lighting by Jackie Shemesh, movement direction by Shelley Maxwell, music by Michael Bruce and sound design by Christopher Shutt.
The revival production of Translations is to return to the National Theatre, following its opening in the theatre last year. Brian Friel's play is directed by Ian Rickson and Ciarán Hinds will reprise the role of Hugh. He will be re-joined by Seamus O'Hara and Judith Roddy, with further cast to be announced. Rae Smith is set and costume designer, lighting is by Neil Austin, music by Stephen Warbeck, sound designer is Ian Dickinson and movement is by Anna Morrissey.
Full casting has also been announced for Peter Gynt by David Hare. The previously announced James McArdle – who takes the title role – will be joined by Tamsin Carroll, Jonathan Coy, Anya Chalotra, Caroline Deyga, Lauren Ellis-Steele, Oliver Ford Davies, Andrew Fraser, Guy Henry, Dani Heron, Ryan Hunter, Isabelle Joss, Lorne MacFadyen, Adam McNamara, Martin Quinn, Ann Louise Ross, Nabil Shaban and Jatinder Singh Randhawa.
Athol Fugard's 'Master Harold'… and the Boys will be directed by Weise in the Lyttelton from 21 September with opening night on 1 October. Fugard's play is set in St George's Park Tea Rom in Port Elizabeth in apartheid South Africa in 1950 where Sam and Willie are practicing steps for the finals of the ballroom dancing championship. Msamati stars alongside Hammed Animashaun, with additional casting yet to be announced. Set and costume design is from Rajha Shakiry, lighting is by Paule Constable and the movement director is Shelley Maxwell.
In the Olivier Theatre, the Sydney Theatre Company Production of The Secret River will run from 22 August until 7 September. Kate Grenville's novel is adapted for the stage by Andrew Bovell and tells the story of two families divided by culture and land. The show premieres as part of the Edinburgh International Festival before arriving at the National Theatre.
Neil Armfield directs the piece which has live music composed by Iain Grandage. The music, which was conceived in collaboration with indigenous artists and is performed in Dharug language as well as English, will have a central role in the play. Set is from Stephen Curtis, costume is by Tess Schofield, the lighting designer is Mark Howett and the sound designer is Steve Francis.
Ben Weatherill's Jellyfish arrives at the Dorfman Theatre folllowing a run at the Bush Theatre last year. Sarah Gordy returns to play Kelly for a limited run of the new play, alongside Penny Layden and Nicky Priest. Jellyfish is the story of coming of age with Down's Syndrome in a seaside town. Directed by Tim Hoare, the piece has designs by Amy Jane Cook, lighting design by Jamie Platt and sound design by Ella Wahlström. All performances will be staged in a relaxed environment.
In July, Andy Stanton's book Mr Gum and the Dancing Bear will open as a musical in the Dorfman space. Andy Standton adapts his own book which has music from Jim Fortune. The show will be directed by Amy Hodge with set and costume designs by Georgia Lowe, music direction from Tarek Merchant, lighting from Lee Curran, choreography by Fleur Darkin, sound design by Carolyn Downing and puppetry by Jimmy Grimes.
As well as the season, several NT Live performances have also been announced.