Review: Downstate (National Theatre)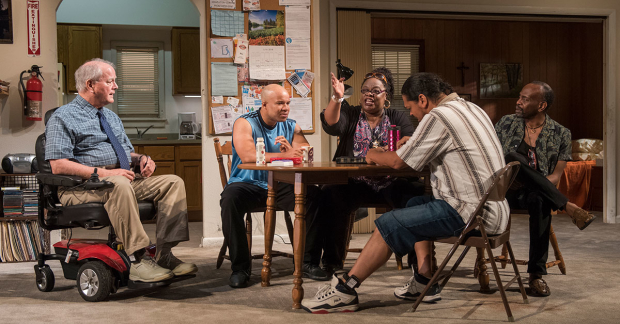 A sad-eyed middle-aged man and his anxious pushy wife sit on a sofa opposite a gray-haired soft-spoken pensioner in a wheel chair. The younger man is trying to say something of the utmost importance but he is constantly interrupted – by a phone call from his son, by men walking in and out of rooms in the tatty house in which they are sitting. "You are a fundamentally evil person…I fantasise about how I would kill you."
It is a staggering, wrong-footing, incredibly funny scene and it sets the tone for this brave, unsettling play about the ways we seek vengeance on convicted paedophiles. Playwright Bruce Norris (best known for the Pulitzer-prize winning Clybourne Park) asks the hardest questions but does so by taking the structure of a farce – doors opening and closing, unexpected interventions – and using them to fashion a contemporary tragi-comedy, where your laugh dies in your throat as you realise what you are witnessing.
A co-production between the National and the legendary Steppenwolf Theatre Company in Chicago – where it opened with a police guard outside the theatre – Downstate is set in a group home in Illinois where sex offenders who have served their prison sentences live under the restrictive terms of the rules that will define the rest of their lives. They wear electronic tags, are denied access to phones or the internet, are prevented by the exclusion zone around a local school from shopping at the nearby supermarket.
Norris' intention, clearly, is to make us see these men not as monsters, but as individuals. Yet he doesn't diminish the horror of what they have done; in fact, the incendiary power of the play is that he asks us simultaneously to understand them without ever losing sight of the suffering of their victims. Emotions and empathy swing wildly, scene by scene, moment by moment. When Cecilia Noble's harassed probation officer, gun tucked under her capacious cardigan, sits opposite Eddie Torres' weeping, bible-quoting Felix and interrogates him about attempting to contact his daughter, all your sympathies are on his side – until the moment she reveals that he abused her.
The action is mainly structured around the arrival of Andy (Tim Hopper) grown-up victim of Francis Guinan's Fred, who we meet in those first moments. His survivors' group has suggested he gets Fred to read a reconciliation statement, confessing in detail what he did when, as a piano teacher, he raped and sodomised two of his pupils. Fred's fondness for Chopin, his vulnerability and his courteous ways – "It's so nice to see you again, Andy" – disguise his denial. Suddenly you are forced to see him as the predator he still is, in a confrontation that is so sharply and accurately written that every word strikes like a stone. Even the Nutter Butter biscuits he offers reek of significance.
Norris is extraordinarily brave in the way he examines society's obsession with victimhood. All the offenders regard themselves as victims in different ways: Gio (Glenn Davis), a statutory rapist, thinks he shouldn't have been punished at all because his victim lied about her age and now lives in a van. Dee (given astonishing life by K Todd Freeman) still regards his relationship with a 14 year-old as a love affair. In a gripping conversation with Andy he argues – persuasively – that Andy is wrong when he says that the ruination of his life is worse than being dead. He seems the sanest and most understanding character, yet it is his cruelty that finally breaks Andy, to whom no one will really listen, for all his need.
Thanks to Pam MacKinnon's tightly-wrought production, on Todd Rosenthal's tone-perfect set, you can hear a pin-drop for most of the evening – except when you are laughing in shock or reeling in surprise. Downstate is an astonishing piece of writing and is performed with the kind of intensity and naturalistic detail that is acting of the very finest, deepest kind. The entire ensemble (which also includes Aimee Lou Wood as a bolshie co-worker and Matilda Ziegler as Andy's unforgiving wife) is magnificent, provoking empathy and revulsion by split-second turns.
Downstate fulfils art's profound function of making you look and think hard about complex, difficult moral issues that society has a tendency of solving with superficial solutions. It is not a comfortable evening, but it is a vital one.