National Theatre 2019 season to feature Phoebe Fox, Leah Harvey and Justine Mitchell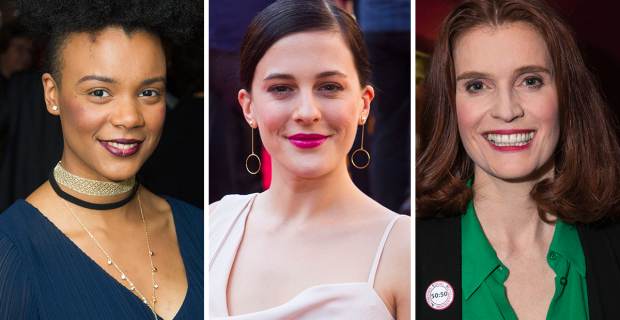 The National Theatre has announced more details for its upcoming shows, including casting for the first stage adaptation of Andrea Levy's Small Island.
Starring in Helen Edmundson's adaptation of the Orange Prize-winning novel will be Leah Harvey (Emilia) as Hortense, Aisling Loftus (Aristocrats) as Queenie and Gershwyn Eustache Jnr (Anatomy of a Suicide) as Gilbert. They are joined by CJ Beckford, Jacqueline Boatswain, Phoebe Frances Brown, Chereen Buckley, Cavan Clarke, Shiloh Coke, Beatie Edney, Adam Ewan, David Fielder, Amy Forrest, John Hastings, Stephanie Jacob, Sandra James-Young, Natey Jones, Trevor Laird, Johann Myers and Andrew Rothney.
The piece is directed by the venue's artistic director Rufus Norris, and has set and costume design by Katrina Lindsay, projection design by Jon Driscoll, lighting design by Paul Anderson, composer Benjamin Kwasi Burrell, sound design by Ian Dickinson, movement direction by Coral Messam and fight direction by Kate Waters. Following the story of two couples across Jamaica and Lincolnshire in the 1940s, Small Island runs from 17 April in rep until 10 August. The show will be broadcast in cinemas as part of the NT Live Season on 27 June.
Ella Hickson, Ben Ringham and Max Ringham's new piece Anna has also announced casting. Running in the Dorfman Theatre, the piece is a tense thriller that uses individual headsets to give audiences intimate access to events. Phoebe Fox (Twelfth Night) will star in the titular role and is joined by Nathalie Armin, Max Bennett, Jamie Bradley, Georgia Landers and Dwane Walcott. The show has set and costume design by Vicki Mortimer, lighting design by Jon Clark and movement direction by Anna Morrissey, and runs from 11 May to 15 June.
Further casting has been announced for the new revival of Githa Sowerby's Rutherford and Son. Joining Roger Allam in Polly Findlay's production will be Justine Mitchell, who reunites with Findlay after working on Beginning in 2017.
The piece, set in a northern industrial town, has set and costume design by Lizzie Clachan, lighting design by Charles Balfour, movement direction by Polly Bennett, sound design by Paul Arditti, and music by Kerry Andrew. It runs from 16 May to 19 June with further performances to be announced.
Joining James McArdle in David Hare's new adaptation of Ibsen's Peter Gynt will be Caroline Deyga, Jonathan Coy and Ann Louise Ross with further cast to be announced. The piece is co-produced with Edinburgh International Festival and will run from 27 June to 8 October in rep. The piece is directed by Jonathan Kent and has set and costume design by Richard Hudson, lighting design by Mark Henderson, sound design by Christopher Shutt and movement direction by Polly Bennett.
More cast has also been announced for the new revival of Caryl Churchill's 1982 play Top Girls. Lucy Black, Jessica Brindle, Lucy Ellinson, Amanda Hadingue, Ebony Jonelle, Charlotte Lucas, Roisin Rae, Nadia Williams and Naomi Yang will all join the show, which opens for previews on 26 March.
Find out more about the show here.
Also announced today, Inua Ellam's hit Barber Shop Chronicles will perform at London's Camden Roundhouse as part of its 2019 UK tour. The piece will run at the Roundhouse from 18 July to 24 August.
The National's production of Network will extend on Broadway to 28 April, while the co-produced The Jungle has announced it will run in San Francisco in the spring following a sell-out run in New York.
Also announced is a London return for War Horse, which will run at the newly opening Troubadour Theatre in Wembley.