Review: The Tell-Tale Heart (National Theatre)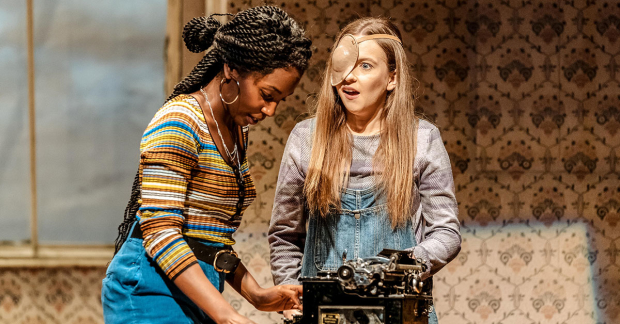 The Tell-Tale Heart is an Edgar Allan Poe short story of unsettling power, about a man who randomly kills his landlord because he is discomfited by his "eye of a vulture – a pale, blue eye, with a film over it". He gets away with the murder and hides the dismembered body under the floor boards but finally blurts out a confession, because he cannot bear the sound of a heart beating louder and louder.
Playwright Anthony Neilson has helpfully printed it in the programme, to remind us of its succinct intensity and spookiness. And then he takes it as the basis of a Grand Guignol riff of a show, which uses Poe as its basis and sends him scuttling in all kinds of surreal but not always satisfactory directions.
Here there's a writer, beautifully played by Tamara Lawrance, who we first see turning down an award because "art is a celebration of failure" and then – under fire from the entire arts world, including Judi Dench – retreating to a Brighton attic, to hide and write her second play. There she encounters the chirpy, needy, home-schooled and porn-loving Landlady (Imogen Doel) who hides one eye beneath a bulging mask.
The writer, patronisingly secure in her assumption that she is tolerant enough to accept anyone, whatever they look like, encourages her to reveal the eye. "I see a smart, beautiful damaged woman," she drawls. But once the mask is off, mayhem begins, with a lot of blood, body parts and gore spreading across Francis O'Connor's stunning set, dominated by one great window, across which video designer Andrzej Goulding sends clouds and more ghostly effects scudding terrifyingly.
It's all skilfully done, funny and frightening by turns. With the help of Nigel Edwards' atmospheric lighting, the tension ratchets up in the second half, even bathing the auditorium in blood red spotlights. Nick Powell's music and sound effects wind up the scariness to maximum, while Neilson, who also directs, injects some good jokes about actors, the National Theatre and even Marianne Elliott's Company, into his generally spiralling plot.
His working method, as is well documented, is to make things up as he goes along, only fixing the script at the very last minute and there is a sense here, of too many twists and turns, and a general descent into silliness. There's a breezy political incorrectness at work that could be seen as offensive, and a glimmer of a theme about the hypocrisy of writers, but I think it would be a mistake to take it all too seriously. Essentially this is a bit of seasonal horror, knowingly full of references to other gothic tales and the way they pull their surprises. Poe's serious point – about guilt – all but vanishes in the madness.
The cast are terrific. Doel lends the landlady a wonderful sprightly innocence, David Carlyle has great fun as two versions of a prying detective, and Lawrance holds the entire thing together by the sheer conviction of her playing.