Review: Anna (National Theatre)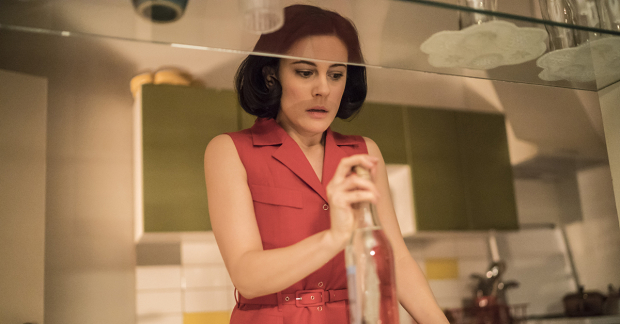 Being able to hear the rustle of someone's collar against their neck is a disconcerting thing. In the hands of extraordinary aural engineers Ben and Max Ringham, it feels like one of the most personal, private sounds you can encounter. It's the same with the delicate chink a bracelet makes as it drops on a wrist, or the imperceptible sigh from someone trying to flick a match alight. In Anna, a new collaboration between writer Ella Hickson and the Ringham brothers, you hear everything in such microscopic detail, it's as if it were happening in your head.
That's the point in this thriller, which plays on themes of surveillance, privacy and betrayal. Each audience member has a pair of headphones on their chair, which they wear throughout the performance. What they watch is the action unfolding in a glass box onstage. But the sounds from the box are delivered straight to each ear, as clear and specific, as if you were right next to them. Physically you may be in the stalls, but it feels as though you are in the middle of the action.
A slip of a thing at only one hour, Anna is nevertheless a layered, engrossing and remarkable piece. Give too many details and I risk spoilers – which I've been asked to avoid – but essentially the play is set in an east Berlin apartment around the '60s during the Cold War GDR years. Anna and her husband Hans are throwing a party to celebrate Hans' promotion. It's while this happens that Anna encounters someone who sends her seemingly balanced world, and sense of society, into complete disarray.
And throughout it all we hear everything from the perspective of Phoebe Fox's Anna, every tiny little breath and mumble, as if she were one big microphone. When she closes the door to her offstage bedroom, we don't see her anymore, but we hear her. The action in the visible room, however, is silent. This vocal sleight of hand constantly challenges us to look anew, to change our focus.
For those familiar with the Ringhams' work, this sound technology will be familiar. It is the pairing up with Hickson's intriguing plot that is more of a departure and although at times the piece labours over its many twists, it works. It's helped enormously by Natalie Abrahami's precise and clever direction which occasionally uses darkness to increase our sensory deprivation. She also stages several quietly horror-fuelled moments that land beautifully.
The performances are not the main event in Anna, but the ensemble are wonderfully convincing, and Fox's turn is controlled and heartbreaking. Throughout, the tension is coiled so tightly it will leave you thanking that Anna isn't longer than its 60 minute run time.