Review: A Midsummer Night's Dream (London Coliseum)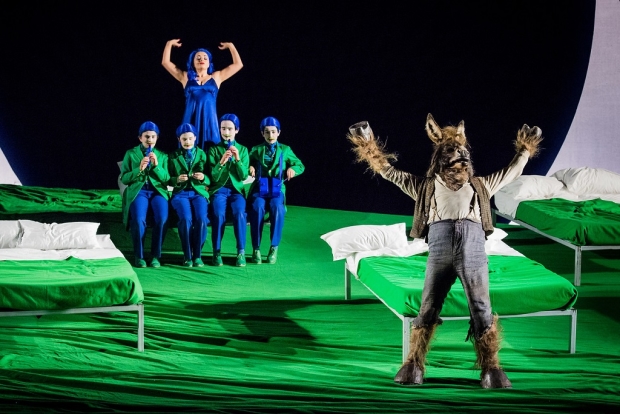 Until now, English National Opera's fiscally-driven dip into past glories has been confined to the Jonathan Miller playbook. (Verdict: his Barber of Seville still cut it but Rigoletto came washed up in a bodybag.) At last a non-JM production returns from the dim and distant and, as I may have intimated in my interview with its revival director, Emmanuelle Bastet, it's one of the very best.
Back in 2011, under departed artistic director John Berry, ENO fielded a controversial new staging of A Midsummer Night's Dream that riffed on rumours and gossip of paedophilic tendencies that surrounded Benjamin Britten's life. That tack would have been fascinating had it borne any relation to music whose ineluctable flow of pleasure plunges the listener into dreamland.
For that we need Robert Carsen. The Canadian's 27-year-old production, last seen at the Coliseum in 2004 (with Alfie Boe as Lysander), is at one with the score from first to last. Britten might have blenched at its vulgarity, and at the fact that its Puck is an old fella rather than a teenage acrobat, but what we see is what we hear. It's a world dominated by beds, with all that implies, and a playground for mischief.
The ravishing austerity of Michael Levine's designs has such a limited palette of greens and dark blues that the odd splash of red (e.g. on the fairies' gloves and the changeling baby's blanket) sears like a retinal contusion. Then when the lovers return to the palace for a night of frolics he dazzles us with white.
'Matthew Bourne's incomparable movement work'
Such things are the production's legend. But the unsung marvels of this Dream are Matthew Bourne's incomparable movement work, here revived to a perfect T by Daisy May Kemp, and the hyper-energised precision of Miltos Yerolemou's clowning as Puck.
The singing cast, cushioned as ever in this production by David Swinson's impressively drilled Trinity Boys Choir as Tytania's fairy footmen, boasts no fewer than five ENO Harewood Artists in principal roles. Tenor David Webb and baritone Matthew Durkan were a persuasively lyrical pair of lovers as Lysander and Demetrius respectively, Eleanor Dennis a terrific Helena alongside Clare Presland's beautifully considered Hermia, and Andri Björn Róbertsson a burnished Theseus (albeit given to semaphore gesturing); but it was Soraya Mafi as Tytania whose class was off the scale. The last soprano I heard in this role was the great Sandrine Piau, yet Mafi was every bit her equal. And her comic instinct was irresistible.
Alexander Soddy, who has made his name in mainland Europe, was an imaginative choice to conduct this revival. He shaped a stylish reading and the ENO Orchestra sounded thoroughly at home with him. A Midsummer Night's Dream can be a complete mess in the wrong hands, but Soddy marshalled the score's warp and weft so that everyone, from countertenor Christopher Ainslie's tangy Oberon to Robert Murray's perfectly ridiculous Flute, held a confident place in the tapestry. If the only complaint is that Joshua Bloom was a mite too dashing to be Bottom then we're in a good place.
Eavesdroppings from the colourful first-night crowd were fun. "Not up to Gielgud's" said someone old enough to know better. "Too nineties" said someone too young to know. I'm not sure what either of them meant. The Royal Opera's ancient John Gielgud production had fur round more edges than Bottom; and the nineties? No idea. A lack of projections, perhaps? Because thanks to meticulous policing by Bastet and others, Carsen's Dream might have been born yesterday.
There are further performances of A Midsummer Night's Dream on 4, 5, 10, 14 and 15 March.