Guys and Dolls review – nothing to lament in the Bridge Theatre's rockin' revival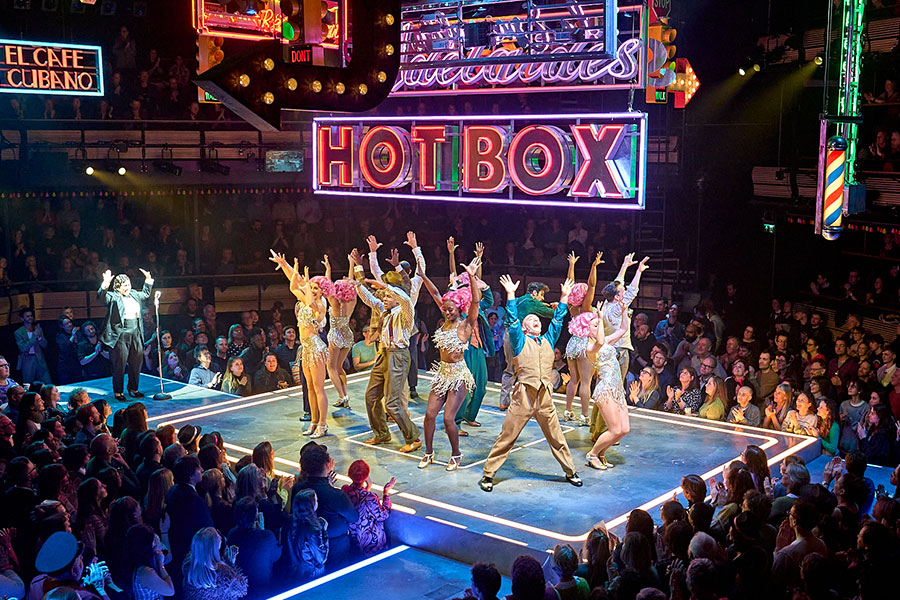 There's something about Guys and Dolls. In 1982, when Britain was in the grip of depression and recession, Richard Eyre mounted a production at the National Theatre which became one of the defining productions of its time, engrained in the minds and hearts of all who saw it.
Now, some 40 years later, when Britain is once more struggling in economic gloom, Nicholas Hytner's revival of Frank Loesser's 1950 masterpiece again banishes the blues and emerges as a definitive and joyous piece of theatre. It is an absolute triumph, not to mention a blast.
To stage it, Hytner has ripped out the Bridge's innards to create a large arena, which holds more than half of the audience and stands selling pretzels and trilbys. Into this swirling mass, Bunny Christie's set emerges on a series of raised and lowered platforms, with neon street lights above signalling the venues where the story unfolds – Mindy's restaurant, Glancy's Gym, the Hot Box nightclub.
It's a singularly fluid setting in which to watch the tales of mobsters and chancers and the women who love them, or who they love which Abe Burrows (and Jo Swerling) so cleverly adapted from Damon Runyon's vivid stories of Broadway street life in the early decades of the 20th century and that Loesser enlivened with some of the wittiest songs ever written.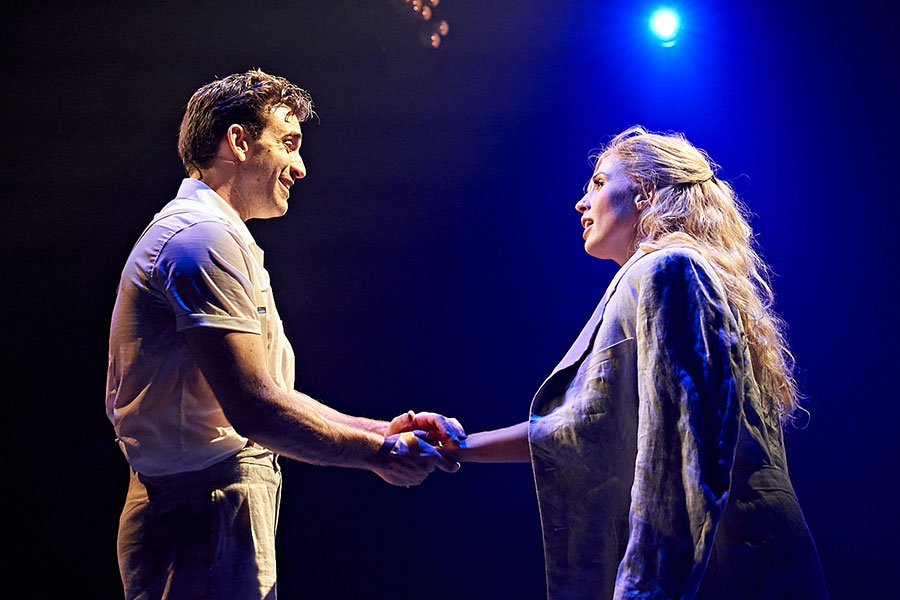 The closeness of the crowd (marshalled by pretend policemen) to the action generates remarkable energy and bonhomie. There is a sense that we are all in it together, as Nathan Detroit hustles the streets, trying to organise his floating crap game, avoid marrying his long-suffering fiancée Miss Adelaide and betting the smooth Sky Masterson that he can't take the Salvation Army's Sarah Brown out on a date.
But the vigour comes not just from the intimacy, but from performances that feel fresh minted, that dig below the period cliché and the gambling lingo to discover the truth of misplaced loves and longings that lie beneath. Daniel Mays is a glory as Nathan, all fussy gestures and twitching shoulders, revelling in his street smarts – "I've been running the crap game since I was a juvenile delinquent" – but with a wary vulnerability.
As Adelaide, Marisha Wallace is both a revelation and a sensation. The perpetual fiancée, engaged for 14 years, with her psychosomatic cold is usually played as vulnerable and ditzy. Wallace, fresh from glorious performances in both Oklahoma! and Waitress, turns her into something else – a glamorous woman who knows her own mind but can't quite persuade Detroit to go along with her.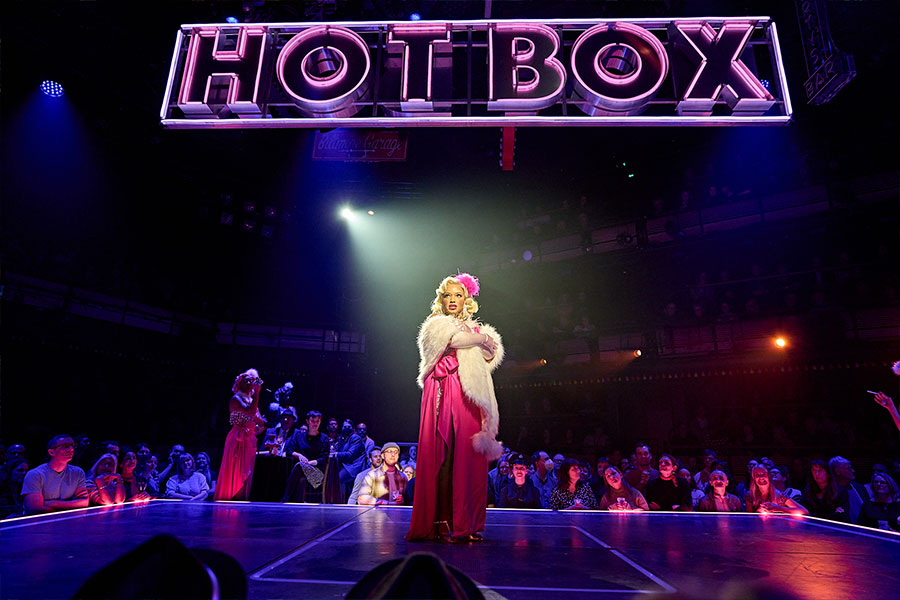 Her performances in the Hot Box are high-class burlesque, and she brings the same flashing eyed confidence and flexible, glorious voice to her life outside; her face may fall when she reveals that she has told her mother she has five children, with another on the way, but she is nobody's fool.
Hytner and his cast work a similar alchemy on the other unlikely pairing. Andrew Richardson, in an astonishingly charismatic professional debut, lends the gambler Sky a strange integrity; he lives his life by a code and when he meets Celinde Schoenmaker's fiercely do-gooding Sarah, who is living her life by different rules, their coming together is tender and warm.
On their trip to Cuba, when she lets her hair down and reveals a fine left hook, you can see them melting in front of your eyes. Like Wallace she is the kind of singer who sends shivers down your spine and the beauty and glory of her singing of "If I Were A Bell" is matched by the (Royal Ballet School trained) Richardson's loose-limbed sexiness when he lets rip in an all-male Havana nightclub.
The strength of the characterisations, particularly of the women, means that the story gathers momentum and meaning as it progresses. When Sarah's grandfather, beautifully played by Anthony O'Donnell wishes her a life full of love, it is an expression of something she is already discovering about herself. When she and Adelaide come together to sing a powerful "Marry the Man Today", you feel the force of their hopefulness – and a sense that they might actually be happy.
All of which is achieved without sacrificing a jot of humour or liveliness. Throughout, the choreography by Arlene Phillips and the co-director James Cousins, fills the space with movement that is both classy and cool; full of relaxed knee bends and gentle turns, quick changes of pace that create a sense of expansion on the narrow gantries. The entire cast work with a joyful attention to detail, a sense of belonging in this time and place.
The staging of "Luck Be A Lady" – on a long diagonal that stretches across the theatre as Sky rolls the dice – and of the classic "Sit Down You're Rocking the Boat", where the cast actually sit as Cedric Neal's graceful Nicely Nicely leads them in the chorus are thrilling. The band, led by Tom Brady and perched above the space, are glorious. There's even interval entertainment. It is a wonder and a tonic.