Royal Court announces late night 'revue' show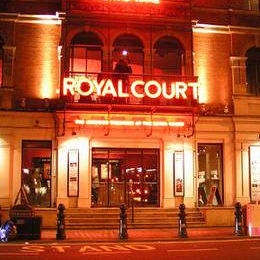 The Royal Court has announced a new late night "revue style" show in its Theatre Upstairs that will feature stories, short plays and "off-kilter comedy".
Conceived by writers Robin French and Anthony Neilson, The Get Out runs from 31 July to 2 August 2014 and will be performed by a company of six actors.
According to the venue, submissions of material are open to "anyone who has worked at the Royal Court Theatre in any capacity whether having had a main house play staged or working in the kitchen."
Robin French's first play Bear Hug was produced as part of the Royal Court's Young Writers Festival in 2004.
Anthony Neilson's previous plays for the Court include Narrative, Get Santa!, Relocated and The Censor. He also worked with six writers in The Big Idea: Collaboration, as part of the Open Court Festival in Vicky Featherstone's first season as artistic director.
"There are no restrictions on form or content," said Neilson of The Get Out. "Anything is acceptable in any medium – songs, monologues, puppetry – if it can be performed on stage, we'll consider it for inclusion."
Tickets for the event cost £10 and the age recommendation is 14 and up.
Neilson added: "Our aim is to create a revue show that is unique in tone, innovative in form and reflective of the Royal Court Theatre."