Review: Plenty (Chichester Festival Theatre)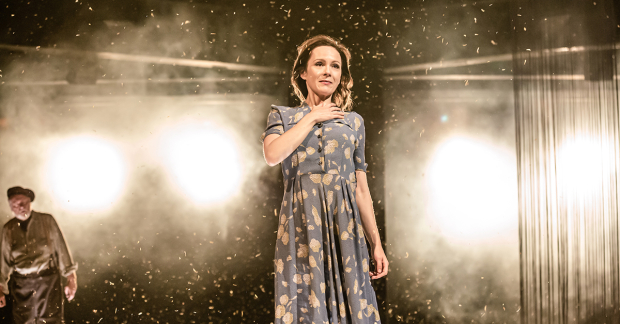 Is it madness to want more? Is it truly insane to try to break free and be yourself? Should a person ever have to apologise for being honest, even if that honesty hurts those who love you?
Plenty is set against a background of huge change in Britain. The story unfolds first behind enemy lines in Nazi occupied France, then through the early post war years of rationing and hard reality, and finally into the time of expected 'peace and plenty,' smashed against the Suez crisis. Central to the piece is Susan Traherne, former WW II secret operations agent behind enemy lines, now struggling against the constraints of post-war Britain, itself wracked with the pains of fading empire and political inertia.
Susan, played wonderfully by Rachael Stirling who is seldom off stage, is bitter, restless, vicious; her acid wit pours forth again and again to sting another victim. But Susan is no monster, even if she wounds with almost casual lack of concern, she is honest. After the excitement, purpose and terror of her teenage years working for the Secret Operations Executive in occupied France, what follows proves too banal and she has seen and experienced too much to neither hide her thoughts nor apologise for them.
And Susan doesn't just struggle: she screams. She rages against the men's hands – always men – who cling to a veneer of dusty normality amid a changing world, she tears at those who would hold her close.
Director Kate Hewitt's staging of Hare's late '70s creation leaves little doubt in the current climate of gender equality battles that central to Susan's quest is her need to be free of the control of men. It is a sometimes stark, sometimes lavish production that surprises and assaults the senses in equal measures. We are both fascinated and appalled by Susan's character.
Rory Keenan is Raymond Brock, Susan's husband and rock, if only she actually wanted either. Yolanda Kettle plays friend and confident, sometime writer, sometime teacher Alice Park; an exotic, corrupting yet infinitely more stable symbol of the changing times. Designer Georgia Lowe creates a simple yet stunning set reaching its climax with the beautiful staging of the final scenes.
Some will no doubt see Plenty as a dissection of madness, yet it is more than that. It is the question of what someone will do to be truly free regardless of the consequences.