Review: Henry V (Shakespeare's Globe)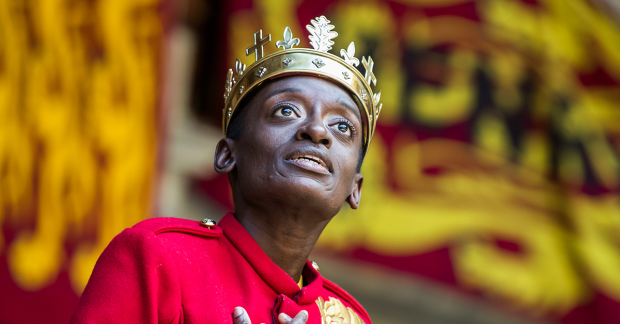 Is there ever going to be a better time, given the current European palaver, to mount Shakespeare's Henry V? A show pitting two mighty nations against one another, where a war of words among leaders can cost the fortunes of those serving under them?
Maybe not, which makes the Globe's trilogy of history plays, currently playing in rep at the South Bank venue, a pertinent pick from artistic director Michelle Terry.
Terry continues to overseea tenure-long tradition of gender blind casting in this new production, though steps away from the stage herself here following her performance as Hotspur in Henry IV Part I (she took on the role of Hal in the Regent's Park Open Air Theatre production back in 2016), with Sarah Amankwah playing the warfaring king following her appearances in the first two parts of the trio.
It's hard to overstate how majestical Amankwah is – every word she speaks lands with a calculating fluidity, while her flickering eyes betray a regnal mind outworking everyone else in court. Her monologue on the eve of the battle of Agincourt is a pitch-perfect reflection of the anxiety any leader may face when their subjects are placed in harm's way.
Alongside the first two parts, Henry V is a tragic play – characters like Bardolph, Nym, Falstaff and Mistress Quickly, Hal's former friends essentially, are all hanged, killed or die unceremoniously offstage. There's more than a whiff of Game of Thrones to the plot.
Under directors Sarah Bedi and Federay Holmes however much of the play is flat and undercharged with an underwhelming central battle embellished by sporadic pyrotechnics to simulate the conflict. Without this resounding climax the whole play loses a real sense of shape, to the extent that when the Duke of Burgundy mourns the absence of a "naked, poor and mangled Peace" at the end of act five, it's hard to relate. Nothing ever feels consequential – the deaths of Bardolph and Nym, a real loss given their presence across the trilogy of Henry plays, is glossed over in a single breath.
It's left to individual performances to really brighten the evening – aside from Amankwah there are some brilliant turns from Colin Hurley playing an understated yet scrupulous Katherine, working the crowd during the French princess' pair of scenes, while Steffan Donnelly's Welsh patriot and leak-brandishing Fluellen is a genuine side-splitter in act two, making a lot of a role that can easily be forgettable.
But for a war play it all feels very stately and sedate, and though the show's small ensemble work flat out for over two and a half hours, only briefly do you ever get a sense of the 'two mighty monarchies' duking it out.