Shakespeare's Globe's new season 2019 to include Midsummer Night's Dream and Michelle Terry as Hotspur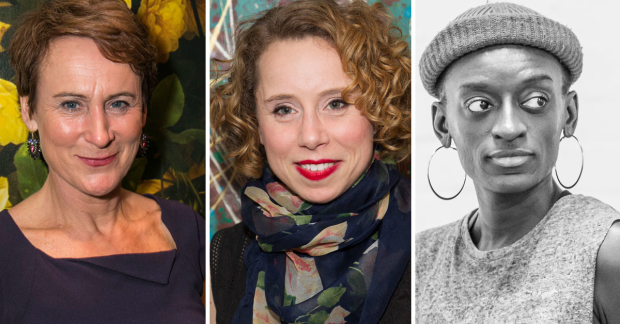 Shakespeare's Globe has announced its summer season for 2019.
The summer season begins with Henry IV Part I, or Hotspur, Henry IV Part II, or Falstaff and Henry V, or Harry England in April, performed by the Globe Ensemble. Artistic director Michelle Terry will play Hotspur in Henry IV Part I and the rest of the cast includes Helen Schlesinger as Falstaff in Henry IV Part I and II, Sarah Amankwah as Hal in Henry IV Parts I and II and the titular role in Henry V. The shows open at the end of April and continue in rep until October 2019. Sarah Bedi and Federay Holmes will direct the shows.
You can see production shots from the three shows here:
In May, Nicole Charles and Elle While will direct The Merry Wives of Windsor, which will also be broadcast live to cinemas on 20 June. Charles was recently seen directing Emilia at Shakespeare's Globe, which transfers to the West End later this year.
In June, A Midsummer Night's Dream will be directed by the venue's associate artistic director Sean Holmes. Blanche McIntyre returns to the Globe in August to direct Ben Johnson's Bartholomew Fair, about London life.
Globe on Tour, where a company of eight actors perform a trio of plays exploring refuge and displacement around the world, will be directed by Brendan O'Hea. Audiences cast votes to decide what play they would like to see, choosing between The Comedy of Errors, Twelfth Night or Pericles.
The venue is holding a day of panel discussions on 9 March to mark the 400th anniversary of the death of Richard Burbage and 100 years since the birth of the founder of Shakespeare's Globe, Sam Wanamaker. In May, Shakespeare's Globe will hold a symposium entitled Women and Power which will highlight work and voices of women of all backgrounds.
Claire van Kampen's Shakespeare Within the Abbey: All Places that the Eye of Heaven Visits returns to the Globe to celebrate Shakespeare's birthday, with Mark Rylance bringing together a company of 22 actors in Westminster Abbey to perform drama, poetry and song. Shakespeare Walks will also take place on 20 and 21 April, directed by Darren Raymond.
The Globe Ensemble includes Tayo Akinbode, Amankwah, Philip Arditti, Sarah Bedi, Nina Bowers, Jonathan Broadbent, Leaphia Darko, Steffan Donnelly, Federay Holmes, John Leader, Sophie Russell, Oliver Ryan, Schlesinger, Terry, Rob Walker, Siân Williams, and Jessica Worrall.
Tickets for the Globe's summer season are on sale now.