Review: Hadestown (National Theatre)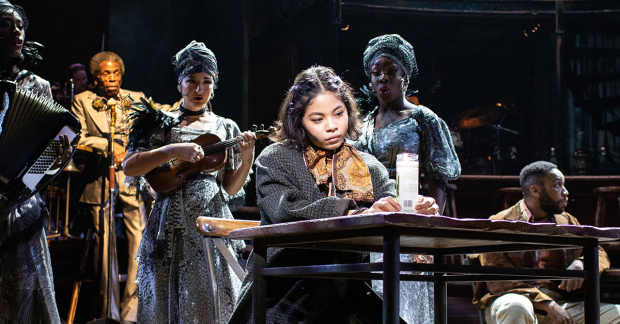 It's taken Hadestown almost a decade to reach the National Theatre in the shape it's now in.
Singer-songwriter Anaïs Mitchell's 'folk opera' began life in 2006 as a concert piece she performed with friends in her home state of Vermont. Then it became a cult success of an album, until finally Mitchell teamed up with director Rachel Chavkin to develop it into a full-blown theatre piece. This is their entirely new production of the show, which will go to Broadway after its run at the National.
Its essence, however, has always remained the same. This is the story of Orpheus and Eurydice, based on the myth of a man who could charm the stones with his singing, and the woman he lost when he looked back as he tried to lead her out of the Underworld.
Its cleverness – and it is a phenomenally smart show – is that it takes that age-old story and makes it spark in many directions. Hades, boss of the Underworld, isn't your common or garden god, but rather a ruler who mines the minerals in the earth, offering his slave workforce 'freedom' by imprisoning them behind a wall. (The topicality of "Why We Build the Wall" has to be heard to be believed.) And Orpheus and his love aren't fey spirits, but a poor boy and hungry girl.
Its brilliance is to take those ideas and set them – in Chavkin's truly inspired production – in a kind of Depression-era speakeasy (designed by Rachel Hauck), where a live band provide bluesy trombone and plinking piano, and the wonderful, charismatic André De Shields as Hermes channels Smokey Robinson in a shiny suit and introduces the action and its meaning. "Eurydice knew how to survive, Orpheus knew how to live," he intones in his smoky rich voice.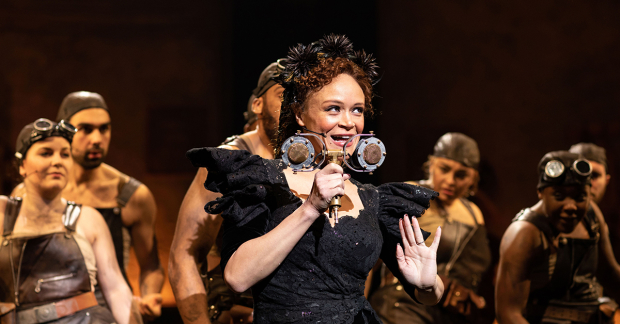 The action is sung through, with recitatives punctuating the songs. For my taste, some are slightly too extended and too lightweight for their purpose, particularly when the lovers are asked to sing about their feelings. With his irritating spiky hair and his sweet expression, Reeve Carney's Orpheus, is a bit too boyband to make me believe his protestations of everlasting love, although I did like the way that Michael Chorney and Todd Sickafoose provide orchestrations that underline the purity of his sound. Eva Noblezada as Eurydice has a charming presence, and a lovely voice, but I found that when the action focused on the young lovers it dragged – never building up momentum, remaining episodic rather than powering on.
As so often, it is the devil that has the best tunes. When Hades, his wife Persephone, and Hermes take centre stage the show is sensational. It's partly to do with the performances from actors of considerable experience and weighty understanding. Patrick Page is superb as Hades, his great, growling bass casting a spell on those around him, mixing ferocity and tenderness. "Hey, Little Songbird", when he seduces Eurydice with promises of a better life, is mesmerising. As Persephone, Amber Gray skips and skitters her joy at escaping her half-year captivity, in "Livin It Up On Top", her earthy energy full of power; but she also finds extraordinary wistfulness and sadness in the songs that require sadder notes.
But it is partly too that the production itself just comes to life at such moments. Chavkin makes joyful use of the many variants of the Olivier's revolve, sending the protagonists spinning round in ever more rapid circles, as the battle takes place between hope and despair, between settling for shutting out the world and using art to make it better.
Her always stylish direction is massively assisted by David Neumann's energetic but finely honed choreography. I loved the way that the three Fates (Carly Mercedes Dyer, Rosie Fletcher and Gloria Onitiri) slink through the action, winding themselves around the fleeing Eurydice, whispering in her ear. At moments such as these, Hadestown can take the breath away. It's been worth the wait.