Sheila Atim, Jade Anouka and Indira Varma among lineup for National Theatre's suffrage festival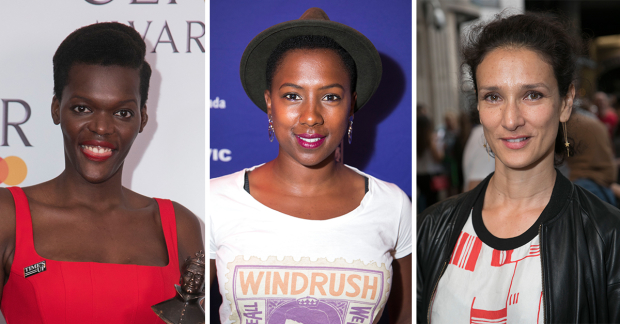 The National Theatre has announced full details for its Courage Everywhere festival, which marks the 100th anniversary of the first women in the UK gaining the right to vote.
The four-day event will see a series of rehearsed readings, talks and events, as well as a free exhibition in the Lyttelton lounge. Five plays will be brought to life and performed across the days, while Scarlett Curtis will chair a discussion on the impact of women's voices. Sheila Atim, Joanna Lumley and Indira Varma will also perform women's poetry through the generations, overseen by Allie Esiri with more names to be added.
Graeae artistic director Jenny Sealey will present And Others, a performance curated by Susan Croft, Graeae and the National and created from the words of forgotten women vital for women's suffrage. It runs on 15 November and the cast will be Jodi-Alissa Bickerton, Babirye Bukilwa, Liz Carr, Philippa Cole, Kellan Frankland, Paddy Glynn, Vilma Jackson, Awa Jagne, Karina Jones and Rena Sodhi.
On 16 November Dawn Walton will direct two new pieces about women's suffrage – In the Parlour by Judy Tate and Magda, Jo, Isabella by Saviana Stanescu, Aoise Stratford and Lyrae Van Clief-Stefanon. Tate's piece is set in 1913 and explores the role of race in the historical suffrage movement, while Magda, Jo, Isabella is composed of three monologues from US writers exploring race, class and belonging. Eliza Butterworth, Martina Laird, Yasmin Mwanza and Amaka Okafor appear in the show, with further names to be confirmed.
Rebecca Lenkiewicz's 2008 play Her Naked Skin will be revived for one performance only on 17 November at 3pm, directed by Nadia Fall. Showing a love affair against the backdrop of the suffrage movement, the piece will star David Calder, Lois Chimimba, Jonathan Coote, Erin Doherty, Deborah Findlay, Kate Fleetwood, Tunji Kasim, Isabella Laughland, Penny Layden, Francesca Mills and Michael Shaeffer with further names to be announced.
Tina and The Shakespeare Trilogy director Phyllida Lloyd will direct Bryna Turner's new comedy Bull in a China Shop on 17 November at 8pm. Following two lovers in a seminary, the piece will star Jade Anouka and Leah Harvey with more names to be added.
Votes for Women, a 1907 play by Elizabeth Robins, will be directed by Lyndsey Turner and dramatises the moment the suffragette movement was born. Further names are to be confirmed, but currently Ruby Bentall, Anthony Calf, Jolyon Coy, Daniel Flynn, Philip Goldacre, Stella Gonet, Adelle Leonce, Victoria Moseley, Vinette Robinson, Ellora Torchia, Sylvestra le Touzel, Zubin Varla and Dwane Walcott will all appear. The piece runs on 18 November at 3pm.
Other events will include talks by Naomi Paxton and a panel discussion featuring Scarlett Curtis, Momtaza Merhi, Nimco Ali and Bridget Minamore.